Spirit Hampers

---
Whisky is a perfect combination of glowing warmth and soothing flavours. For those who just enjoy...
Read Full Post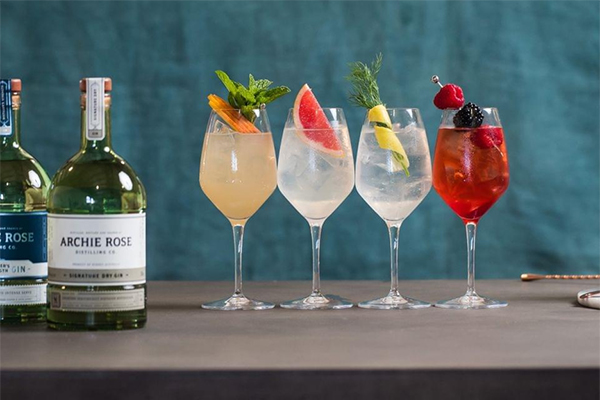 Introducing Our New Gin Hampers There's no better way to create a fun evening at home to celebrate a specia...
Read Full Post
Premium Spirits Hampers Australia
For premium spirits gift hampers delivered Australia wide, choose from our range of different spirit hampers with their favourite liquor. Explore the range of cocktail and spirit hampers for a refined and sophisticated gift to impress. Whether they love whiskey hampers, gin mixers, vodka cocktails, cognac, or port, you can find a spirits hamper just perfect for them. Our various fortified wine and spirit gift hampers have been designed to create a luxury drinking experience for a special occasion.
Port, spirits, and liqueur hampers make wonderful celebration gifts for every occasion. From fun vodka cocktail hampers or gin hampers to enjoy over the weekend with friends, to more sophisticated spirit hampers with cognac or port perfect for after-dinner drinks, we offer a diverse range of premium spirits they'll love. With each luxury alcohol spirits hamper they will enjoy a selection of world-class spirits perfectly paired with gourmet nibbles.
Raise a glass and toast to an evening to remember with the finest spirits and cocktail hampers. Our deluxe hampers with spirits and cocktails are the perfect gifting option. For a top-shelf spirits gift delivery to delight, you can choose from spirit hampers featuring a premium selection of flavoured liquors as well as fine spirits designed to be drunk neat, on ice, or with their favourite cocktails.
Popular Whisky and Vodka Hampers
Beautifully presented and ready to be gifted, our spirit hampers with whisky are perfect for experienced whiskey drinkers and those who haven't yet been introduced to the world of Scotch whisky. Introduce a spirits drinker to a selection of the finest whiskies with our exceptional collection of both whisky tasting hampers and gift baskets with full-size bottles of Glenmorangie whisky. Every spirits hamper includes a selection of perfectly paired gourmet food to enjoy with their alcohol of choice.
Vodka hampers are a versatile drinks gift that they will love and can be enjoyed at any occasion. Vodka hampers that some with mixers and garnishes are perfect for a party or entertaining with friends.
Tawny Port and Cognac Hampers
While every one of our hampers with a choice of different spirits are the perfect celebration gifts to impress, there is nothing more elegant than sipping a fine port or cognac after a meal. From a dinner party with colleagues to a special evening at home, our Penfold's Tawny Port hamper and Hennessy's VSOP cognac hamper are the ultimate in refined gifting.
What are the most popular spirits to give as a gift?
Whisky, cognac, and vodka are among the most popular liquors in the world. In Australia, we add gin to the list. Whisky hampers in Australia are the best selling alcohol gifts when it comes to spirits, with gin the next most popular for both men and women. Vodka hampers are versatile for mixers and cocktail recipes.
Our most popular spirit hampers in Melbourne and Sydney include our Glenmorangie whisky tasting gift hampers and spirits hampers featuring Australian craft gin. Our range of Glenmorangie Whisky hampers are the ideal selection for lovers of the finest Scotch whisky. These premium spirits gift hampers also feature a supreme selection of gourmet savoury nibbles with the bonus inclusion of indulgent triple-chocolate fudge cookies and artisan-made sweet, nutty treats perfectly paired to enjoy with this versatile spirit.
What spirits gift packs can be delivered?
All of our premium gift packs and spirits hampers are delivered Australia wide to recipients aged 18 and over. Order online for spirit hampers delivered Melbourne, Sydney, Brisbane, Adelaide, Canberra, Perth, Hobart, and Darwin with express shipping options available.