Anna's Original Ginger Thins 150g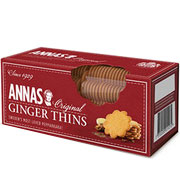 Traditional ginger biscuits for Christmas time, providing a rich ginger flavour with slight hints of cinnamon. Delicious ginger cookies based on wheat flour, vegetable oils, syrup, cinnamon and ginger. Exquisite selection of Anna's Original Ginger Thins, first created in 1929.
In the 1920's, Anna baked ginger cookies at Christmas in Sweden. Now famous worldwide. A worldwide favourite that began in Anna's kitchen in Sweden. Beautifully flavoured with ginger and cinnamon. A truly traditional biscuit that began in 1929 in Sweden and is now loved and savoured the world over.