Baylies Double Chocolate & Hazelnut Biscuits 150g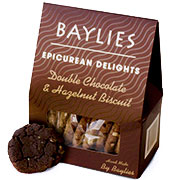 High-quality chocolate and hazelnut biscuits from Baylies, solely created with natural ingredients. Australian gourmet biscuits from Baylies Epicurean Delights, produced in the Adelaide Hills. Delicious Baylies biscuits, providing you with a flavour combination of hazelnut and premium chocolate.
Made in the Adelaide Hills, these delicious biscuits are made with crunchy hazelnuts and double chocolate. Made in South Australia, featuring crunchy hazelnuts and delicious chocolate for a true Australian treat. Beautiful Australian quality produce crafted into the ultimate in deliciousness with hazelnut and chocolate.