Baylies Epicurean Delights Panforte 290g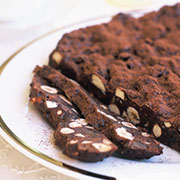 Exquisite panforte from Australian owned Baylies Epicurean Delights with fresh almonds and delicious fruit. Delicious and nutritious panforte from Baylies Epicurean Delights, made with the best fruits and almonds. Healthy panforte from Baylies Epicurean Delights made from organic, wholemeal flour.
An old favourite lightly spiced, made a little healthier using organic wholemeal flour & only the best fruit and almonds.
Baylies Epicurean Delights Panforte Gift Hampers
European desserts are utterly delectable and irresistible. One of the most popular desserts in Europe, which specifically comes from Italy, is the panforte. This traditional dessert is a fruit-and-nut dessert that is now popular not just in Europe but in every part of the world. Panforte is not your usual dessert. It gives any person who will taste it a very satisfying experience. It is more like a cake and yet more like a candy. Some even mistake it from a fruit cake. Nonetheless, panforte is an excellent dessert that is perfect for your taste buds. It is also a great addition to your gift hampers and whoever you send these gifts too will surely love the goodness and sweetness of panforte.
Panforte Gift Hampers for Tastebud-Satisfying Desserts
Meals are not complete without desserts especially for people with sweet tooth. Desserts help them to fully enjoy the foods they ate. They also complement different kinds of food that are all rich in flavours. Hence, if you are trying to visit your friends or go to their homes for lunch or dinner, it will be nice to bring gift hampers filled with panforte. To make sure you are giving them the panforte they will love, opt for Baylies Epicurean delights panforte. This panforte will surely make their day as it gives their taste buds a wonderful and truly satisfying experience. This delightful panforte will best suit your gift hampers as you shower your friends with its
sweetness
and palatability.
Remember that when it comes to satisfying others' taste buds, it is always best to choose high quality products so they will see you not just as a generous person but also a caring one. Have a wonderful meal with them and see how they devour the panforte in your gift hampers.
Panforte Gift Hampers for Sweets Lovers
Sweets are not just a perfect treat for children. Likewise, candies and chocolates are not the only kinds of sweets that can fulfil the desires of sweets lovers. There are many other kinds of dessert that will knock them off their feet. One of these is the exquisite and the ever delicious panforte. For people who love both cakes and candies, panforte is just the perfect dessert for them. What's more exciting is that panforte is not just sweet; it is also a bit spicy which makes this dessert really exceptional. This additional spice perfectly complements the sweetness of panforte which is actually why it is very addictive.
Anyone who will taste Baylies Epicurean delights panforte will surely have an extraordinary taste bud experience. Now that you know how great panforte is, don't wait for a special occasion to give your friends and loved ones a wonderful treat. Grab your gift hampers with Baylies panforte and start sending them to your friends, relatives, co-workers and loved ones. For sure, those gift hampers won't last a day since they won't be able to resist the charm of beautifully packed gift hampers and perfectly baked panforte.
Panforte Gift Hampers for Health Buffs
Desserts are definitely taste buds satisfying. However, most desserts are sweet and some people have to get rid of them because of its danger to a person's health. Apparently, people who eat lots of sweets are susceptible to certain diseases like diabetes. With this fact, it is safe to eat fewer sweets to avoid possible illnesses. Nonetheless, one can still enjoy eating sweets without worrying about getting sick. With Baylies Epicurean delights panforte, health buffs can take pleasure in this dessert because the flour made in this panforte is organic. Thus, it is very safe for anyone and unlike other desserts; Baylies panforte is good for their health.
Also, Baylies panforte is not too sweet so they don't have to worry about indulging in it. Make your health buff friends happy by sending them panforte gift hampers. They will surely love this treat filled with fresh fruits and almond. Above all, they will love the gift hampers you will send them because Baylies Epicurean delights panforte is not just sweet, delicious, tastebud-satisfying and mouth-watering but is also healthy and it can make a great and incredibly gratifying dessert.