Baylies Epicurean Traditional Handmade Cake 750g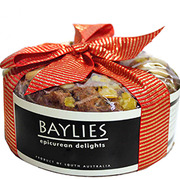 A traditional handmade cake from Baylies Epicurean Delights, usually served during the Holiday season. Delicious handmade cake containing Barossa Valley Brandy, the perfect dessert at Christmas. Handmade cake based on Barossa Valley Brandy and produced with local ingredients from the Adelaide Hills.
Featuring quality South Australian ingredients, including a generous dousing of Barossa Valley brandy. Beautifully handmade in South Australia with a good dash of brandy from the Barossa Valley. Handmade in the Adelaide Hills with Barossa Valley Brandy to create the perfect Christmas Cake.
---