Baylies Epicurean Handmade Christmas Pudding 100g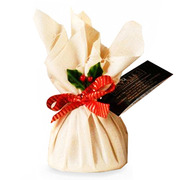 Christmas pudding made according to a secret recipe, providing a rich fruity flavour and smooth finish. Traditional Christmas pudding containing fresh fruit, butter, walnuts and the famous Barossa Valley Brandy. A real Christmas pudding made by Baylies, includes fresh ingredients such as walnuts, stout and even Barossa Valley Brandy.
Traditionally made to an old recipe and rich in fruit, butter, walnuts, cherries, stout and Barossa brandy. Simply divine.
Discover Delicious Handmade Christmas Pudding In Our Christmas Hampers!
Can you think of anything more delicious than handmade Christmas pudding? Neither could we, so we included an amazing handmade Christmas pudding in our selection of Christmas hampers. Want to find out how this Christmas pudding can find its way to your table this year?
What Christmas Pudding Can I Expect?
The Baylies of Strathalbyn is a handmade Christmas Pudding that will tantalise all your senses. It was made in the Adelaide Hills and contains a generous amount of brandy, butter, fruit, cherries and walnuts. The Christmas Pudding in our gift hampers was also created according to a traditional recipe, so we are sure you cannot wait to try it!
Where Can I Find This Traditional Christmas Pudding?
Our Baylies of Strathalbyn Handmade Christmas Pudding can be found in our selection of Christmas hampers, more specifically in the
Deluxe Office Share Christmas Baskets
.
When you choose one of the Deluxe Office Share Christmas Hampers, you will get more gorgeous Christmas treats than you have ever seen in your life. In addition to the Christmas pudding, you will also get various snacks from Morgan & Albert's, Baylies, Partridges and several Tasmanian fruit pastes.
Of course, our Christmas hampers would not be complete without a nice selection of biscuits either, so you will also find all-time favourite biscuit brands such as Elsa's Story and Maison Fossier!
Are There Other Gift Hampers You Can Recommend?
Hamper Emporium has many gourmet gift hampers filled with delicious treats. It does not matter if you like chocolate or some rare delicacies, we have plenty of variety available to you.
One section we can definitely recommend in our range of gift hampers are our chocolate gift hampers. Here you can find some famous chocolate brands such as Belgian Butters, Butlers and many more.
How Much Delivery Do I Pay Per Hamper?
Absolutely nothing! All hampers on Hamper Emporium are eligible for free standard delivery, so you will not have to pay a thing! Of course, Hamper Emporium also has some additional services available, for example the same day delivery service in the Sydney Metro area.
Customers who live in Sydney Metro and need a Christmas or gift hamper urgently, simply need to order their hamper before 1 pm on a working day. For the small fee of $12.95, Hamper Emporium will deliver the hamper a few hours after ordering.
For more information on specific delivery times or the same day delivery option, please head over to our delivery section. Need more information on deliveries? Do not hesitate to contact the Hamper Emporium customer support team!
How Do I Contact Customer Support?
At Hamper Emporium, we have various means of communication. The best way to contact Hamper Emporium is over the telephone. Simply give us a call at 1300 459 452 and we will deal with your problem or question right away.
Is it not possible for you to call during the office hours? Then you can still send your question to Hamper Emporium by sending an email to sales@thehamperemporium.com.au.