Baylies Epicurean Handmade Christmas Pudding 400g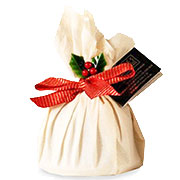 Beautifully presented Christmas cake, handmade by Baylies of Strathalbyn. Delicious & traditional Christmas cake containing fresh walnuts, butter, cherries, stout and Barossa brandy. Handmade Christmas pudding from the Baylies of Strathalbyn range.
Made in the Adelaide Hills with a generous dousing of brandy, fruit, butter, walnuts & cherries & cooked using a traditional recipe
.
Give the Gift of Love with Baylies of Strathalbyn Handmade Christmas Pudding
It is, once again, the most wonderful time of the year—it's Christmas! The time has come yet again when people all over the world come together and celebrates the birth of Christ. It is the time when the spirit of Christmas trumps the feeling of animosity between family and friends. The time when everyone seems to be in a better mood regardless of their problems, difficulties, and stress in life.
What better way to show your love this Christmas season than with a thoughtful and useful present such as a Christmas gift hamper? A gift hamper is the most perfect and exquisite gift you can give this season. Especially if the gift hamper contains delectable and one-of-a-kind treats, it can show how much thought you've put into the gift. Consequently, it will show just how much you love the recipient.
Why Give a Gift Hamper this Christmas?
Gift hampers can be homemade or commercially-bought. However, creating your own gift hamper is more personal. Best of all, you can choose what items to include in it. Since the 1980s, gift hampers have been the go-to present for corporate firms. However, more recently, it has gained popularity among individuals seeking to give a Christmas present other than the usual. If you are on a budget, a gift hamper may be the solution to your Christmas gift-giving problems. With the right mix of treats placed in a Christmas gift hamper, it can certainly become the gift of choice to give (and receive!) this Christmas. Include specialty items and novelty goods such as chocolate, wine, and cheese. For sure, your gift hamper will certainly be the biggest hit in any Christmas party.
In this case, why not include Baylies of Strathalbyn Handmade Christmas Pudding in your gift hamper? Up the ante of your gift hamper with a scrumptious and delectable treat such as the Baylies of Strathalbyn Handmade Christmas Pudding. It is specially made with only the freshest and finest ingredients. It is delicious and what better way is there to say 'Merry Christmas' than with a Christmas pudding?
Why Baylies of Strathalbyn Handmade Christmas Pudding?
Baylies is a company dedicated to excellence and delivering only the choicest and highest- quality food items. Using only the best local ingredients, owners Robert and Angela Bell, work hard to transform these ordinary ingredients into special and world-renowned treats. Ingredients from all over Australia are gathered, worked with magic, and delivered to you. All these aspects and dedication to quality is apparent in every product you buy and in every bite you make.
Baylies of Strathalbyn Handmade Christmas Pudding is created with only the freshest and choicest of ingredients. Feel the Christmas spirit burst through every forkful when you try Baylies of Strathalbyn Handmade Christmas Pudding. Using a classic Old English recipe, each mouthful you take transports you back to the Christmas times of old. Generously made with Australian fruit, walnuts, cherries, and butter, you will surely want seconds of the Baylies of Strathalbyn Handmade Christmas Pudding.
To whet your appetite even more, each Baylies of Strathalbyn Handmade Christmas Pudding is liberally smothered with stout and Barossa brandy for that extra flavour you will never get enough of. Include a note in your gift hamper to make it even more personalised. Suggest serving instructions, for example! The Baylies of Strathalbyn Handmade Christmas Pudding is best enjoyed warm slathered with brandy butter, custard or cream, with friends and family!
Include this in your gift hamper and you will surely delight your friends and family. Exquisitely wrapped and packaged in calico, you don't even need to worry about the presentation. Bound, tied, and decorated with a ribbon and holly branch, it certainly is more than worthy to be considered a Christmas present.
A Perfect Yuletide Gift Hamper
So now you know what to include in this year's Christmas gift hamper. No need to buy expensive and impersonal gifts. Create a gift hamper with Baylies of Strathalbyn Handmade Christmas Pudding and give the gift of love this season. You will surely enjoy their expressions of delight as much as they enjoy the treats they find in your special Christmas gift hamper.