Belgian Butters Butter Almond Thins 100g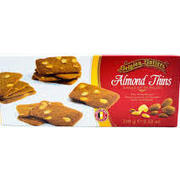 Light biscuits that taste of vanilla and almond, the perfect sweet biscuit for anyone who enjoys a sweet snack. Biscuits produced in the Belgian city of Oostkamp, providing the Belgian biscuit quality we all know and love. Delicate Belgian almond biscuits with small hints of vanilla, baked with a lot of care and love.
Made with almonds and imported directly from Belgium, these delicious Almond Thins will satisfy your craving for something crunchy and sweet, without being too sugary.
Looking For Something Sweet and Crunchy? Discover The Belgian Butters Butter Almond Thins In Our Gift Hampers Range!
The Hamper Emporium gift hampers are filled to the brim with delicious treats that will make your mouth water. One of the treats you definitely have to try is a box of Belgian Butters Butter Almond Thins, which you can find in a number of our gift hampers! Not sure what these Belgian Butters Butter Almond Thins are? Find out here!
What Are Almond Thins?
Almond thins are light biscuits with hints of almond and vanilla. These biscuits are simply perfect for people who like sweet, but not too sweet. When you go for one of our gift hampers containing these Belgian Butters Almond Thins, you can be sure they will be liked.
Who Is Belgian Butters?
Belgian Butters is a company located in Oostkamp, a small town in Belgium. The company focusses on delicious handmade biscuits, so you will find more Belgian Butters treats in our range of gift hampers due to the fact that they are that amazing!
When you eat one of the Belgian Butters treats, you will immediately notice a big difference between standard biscuits and gorgeous Belgian Butters. All Belgian Butters treats are made with real butter, cream and of course, genuine Belgian chocolate.
Where Can I Find Belgian Butters Biscuits?
Are you interested in gift hampers containing delicious Belgian Butters Butter Almond Thins? Or are you interested in a hamper containing many different types of Belgian Butters treats? Then we can refer you to our Christmas hampers section.
Our
Christmas hampers
contain a variety of lip smacking deliciousness, so Belgian Butters could not be missing from it. The Christmas hampers range is divided into corporate Christmas hampers, chocolate Christmas hampers and gourmet Christmas hampers, so you will always find something to suit your particular need.
To find the Belgian Butters treats, please go to the gourmet or corporate hampers. When you want to buy one of our corporate hampers as a corporate gift, we can recommend having a talk with one of our sales representatives about corporate branding. Hamper Emporium can provide you with corporate branding and add a design of your choice to your gift hamper selection. In addition to that, Hamper Emporium can also send the gift hamper straight to the recipient. The corporate branding of a gift hamper is the perfect way to increase your brand recognition, but can also forge strong business relationships.
In addition to biscuits from the Belgian Butters brand, you can also find another big brand in many of our gift hampers. The brand we are talking about is Maison Fossier, a world-famous French biscuit manufacturer that is best known for their biscuit roses. Curious how they taste? Head over to our gourmet, chocolate or corporate hampers now to see our full range!
Call Us For More Information!
Do you need any additional information on Belgian Butters or their products? Or would you like some advice on any of our gift hampers? Feel free to give us a call at 1300 459 452 or send us an email at sales@thehamperemporium.com.au.