Belgian Butters Finest Chocolate Biscuits 100g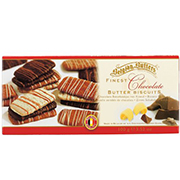 Delicate chocolate butter biscuits from the Belgian Butters almond thins range of Jules Destrooper. Selection of biscuits with real Belgian chocolate, created by Jules Destrooper for the Belgian Butters range. A gorgeous selection of delicate butter biscuits, created with a hint of cinnamon and real Belgian chocolate.
Delicious butter thins with a hint of cinnamon and enriched with milk, white and dark Belgian chocolate. Everyone will love Belgian Butters Chocolate Biscuits featuring a hint of cinnamon & white & dark chocolate. White & dark belgian chocolate enhances these scrumptious Belgian Butters Chocolate Biscuits.