Belgian Butters Butter Waffle Crisps 100g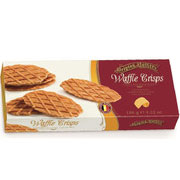 The world-famous selection of butter waffle crisps, the biscuits that put Jules Destrooper on the map. Selection of Belgian Butters waffle crisps, made with the finest butter and produced in Belgium. Outstanding selection of real Belgian butter waffles, created by Jules Destrooper under the name of their Belgian Butters range.
Known for their sophisticated range of traditional, pure butter biscuits, these Belgain Butters Waffle Crisps are an absolute treat.
Fancy A True Belgian Classic? Meet Belgian Butters Butter Waffle Crisps!

Most foodies have very sensitive tastebuds, so it can be challenging to find them a treat they really enjoy. Fortunately you can count on Hamper Emporium and our selection of gift hampers containing Belgian Butters Butter Waffle Crisps, one of the most gorgeous treats coming from Belgium!

Why Should I Choose These Butter Waffle Crisps?

A foodie will be able to tell apart a high quality waffle crisp from a low quality one. When you really want to spoil your foodie friend, there is only one solution and that is Butter Waffle Crisps made by Belgian Butters.

Belgian Butters only uses the finest ingredients to create their biscuits. Belgium also has a long history where biscuits, pastry and chocolate are concerned. The knowledge the Belgians have in this area is very noticeable in their products.

Where Can I Find Belgian Butters Butter Waffle Crisps?

Customers can find the Belgian Butters Butter Waffle Crisps in two of our gift hampers, more specifically the Deluxe Office Share Christmas Basket and the Mini Delight Xmas Hamper. Both gift hampers are an excellent choice, no matter the occasion, although we do tend to classify them under our Christmas hampers category.

Our Christmas hampers range is definitely worth discovering as well. Hamper Emporium only works with famous and known brands, so you can be sure you will always receive quality when you buy your Christmas hampers from Hamper Emporium. Have a look at our selection of Chocolate Christmas Hampers or Gourmet Christmas Hampers, we are sure they will not disappoint.

We also need to mention that the gift hampers containing Belgian Butters Butter Waffle Crisps are also a perfect corporate gift. Gifting one of these hampers is a fun way to increase your brand exposure and to form new business relationships.

To take advantage of our business services, such as corporate branding, please contact the Hamper Emporium customer service or send an email to corporate@thehamperemporium.com.au for additional information.

Do You Have Other Products from Belgian Butters?

Hamper Emporium adores the range of Belgian Butters, so you will find more of their products in our gift hampers. In addition to the Belgian Butters Butter Waffle Crisps, you can also find Belgian Butters Finest Chocolate Butter Biscuits and many more.

In addition to Belgian Butters, we also offer other famous biscuit brands in our gift hampers and those will be appreciated by foodies. One of them is Maison Fossier, a famous French brand that is known for its delicate biscuit recipes.

How Can I Get More Information On Belgian Butters Butter Waffle Crisps?

Do you have a question relating to Belgian Butters Butter Waffle Crisps? Or would you like to speak to one of our sales representatives for something else? Do not hesitate to contact us during office hours at 1300 459 452. Outside the office hours you can also reach us by sending your question to sales@thehamperemporium.com.au. We also have an online enquiry form where you can quickly enter your question and send it to us. Hamper Emporium aims to reply to all requests within 24 hours.