Butlers Assorted Fudge Gift Box 200g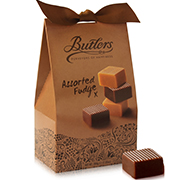 From world-renowned Butlers, can they resist the tempation to devour every one or will they share? Share or savour alone, this sweet goodness from world-renowned Butlers is the perfect sweet treat. It's the gift of sweetness they'll savour with every bite from the world renowned Butler's.
Irresistible assorted fudge treats perfect for the whole family to share and enjoy together. The ultimate gift idea for the sweet tooth who loves quality. Nobody does fudge quite like Butlers. Everyone knows quality is important when it comes to fudge, and Butler's are loved the world over.