Butlers Chocolates Chocolate Fudge Gift Box 200g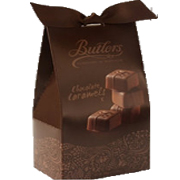 Irresistible chocolate fudge produced in Ireland by Butlers Chocolatiers, world renowned chocolate experts. Divine pieces of chocolate fudge, handmade with the finest Butlers chocolate. A selection of alcohol-free fudge that simply melts in your mouth, created by the Irish chocolatier Butlers Chocolates.
Seriously addictive caramels smothered in rich milk chocolate. One piece is not enough. Nothing is as delicious as smooth, creamy, delicious fudge. We know they'll love every bite. Be swept away to the hills of Ireland with this luxurious fudge from world renowned Butlers Chocolatiers.