Butlers Creamy Toffee Bag 125g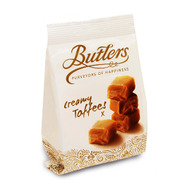 An exquisite selection of creamy toffees, made with passion by Butlers Chocolates in Ireland. Beautifully designed bag of creamy toffees from Butlers Chocolates, the perfect way to show you care. Rich and creamy toffee pieces, handmade by Butlers Chocolates according to a traditional, secret recipe.
A traditional recipe that has been the same for over 80 years, these creamy toffees are truly delicious! Authentic toffee crafted to an 80 year old recipe to create a creamy, delicious fudge that's irresistible. Rich and creamy, perfectly crafted, thanks to Butlers 80 year old secret recipe. They won't want to share!