Butlers Creamy Toffees 200g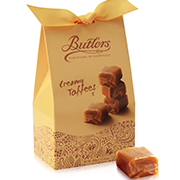 Perfect for the sweet tooth; these creamy toffees are truly created to be savoured from the team at Butlers. Only Butlers can create such delicious creamy toffees, a favourite in our hampers, guaranteed to delight. There's something extra delicious about the extra creaminess of Butlers Creamy Toffees.
Divine creamy toffees that are definitely an irresistible sweet treat and ideal for any sweet tooth. Totally irresistible and totally perfect for the sweet tooth in your life, they'll savour this sweet, creamy joy. Beautifully crafted to bring out the gentle creaminess of the toffee with the ultimate sweet gift for all.