Butlers Dark Chocolate Salt Caramels Bag 125g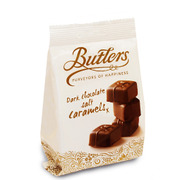 The perfect sharing bag filled with delicious Butlers dark chocolate salt caramels. Selection of Butlers dark chocolate salt caramels, for a smooth and flavour-filled caramel experience. Mouth-watering selection of dark chocolate salt caramels from Butlers Chocolates, the perfect treat.
Deliciously addictive and made with rich dark chocolate and soft chewy caramels with a hint of sea salt. The perfect blend of smooth dark chocolate and the crisp goodness of sea salt for the ultimate treat. They'll never be able to stop at one, with the irresistible goodness of dark chocolate and fresh sea salt.