Maison Fossier French Palmier Pastries 125g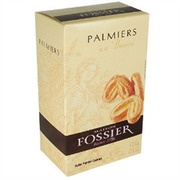 Classic Palmier pastries made with 30% butter, incredibly rich in flavour and perfect with a fresh cup of coffee. Delicate palmier pastries created by Maison Fossier, a biscuit manufacturer with a long history dating all the way back to the 17th century. A tasteful and delicious treat these pastries are made from butter and are sure to satisfy.
These wonderfully delicate, classic sweet puff pastry biscuits are made with 30% butter. Made in Reims, France.
Delicious pastries that are a favourite the world over, made from the finest ingredients for a delicious treat. Looking For French Delicacies? Discover Maison Fossier French Palmier Pastries In Our Gift Hampers!

Customers who love their French delicacies probably already heard of Maison Fossier. One of the most exquisite pastries in their range are Maison Fossier French Palmier Pastries, a nice puff pastry containing 30% butter. Would you like to taste or gift a box of these amazing pastries? Be sure to check out our collection of gift hampers!

What Can You Tell Me About Maison Fossier French Palmier Pastries?

Maison Fossier has been around for a very long time, because the company started creating their gorgeous delicacies in the 17th century. The experience Maison Fossier has, is definitely noticeable in the range of biscuits, pastries and biscuit roses they produce year after year.

Hamper Emporium really enjoys the quality of Maison Fossier, so we had to include a large amount of their products in our gift hamper range. When you shop at Hamper Emporium, you have a really high chance of finding Maison Fossier.

What Gift Hampers Contain French Palmier Pastries?

Maison Fossier French Palmier Pastries can be found in a large number of our gift hampers. These hampers are the Luxury Chocolate & Champagne Hamper, The Sophie & Moet Baby Gift Hamper, a Little Luxury Gift Hamper, With Love From France Hamper, Brown Brothers Limited Edition Hamper, the International Foodies Hamper, the Luxury Chocolate & Bollinger Hamper and the Premium Office Share Gift Hamper.

We can really recommend having a look at each of these gift hampers, given the fact that there are more delicacies to discover in each one. In addition to Maison Fossier, you can also find other top brands in our gift hampers, this includes Butlers, Jules Des Trooper and even Brown Brothers. For a full overview of all our gift hampers, please click on our gift hampers category.

Can I Find Maison Fossier In Your Christmas Hampers?

As we already mentioned, Hamper Emporium uses Maison Fossier quite frequently, therefore you can also find this brand in our Christmas hampers. Maison Fossier produces biscuits with a delicate yet traditional flavour, so they match the traditional offer of Christmas hampers perfectly.

Businesses that want to gift one of our Christmas hampers containing Maison Fossier and other top brands, can also take advantage of our corporate branding options. By heading over to our corporate hampers section, which you can also find under Christmas hampers, you can personalise your Christmas hamper so it matches your personal preferences. This way you can make sure that your business relations will remember you.

Would you like to discuss some personalisation options? Or would you like to discuss your corporate branding options with us? Be sure to contact hamper emporium through corporate@thehamperemporium.com.au to speak to our in-house graphics designer.
Pastries that have been perfectly crafted with only the finest ingredients. An impression with every bite.