Byron Bay Cookies Milk Choc Chunk Bon Bon 25g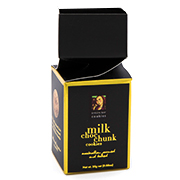 Byron Bay milk chocolate baby buttons, which is made from ingredients that are suitable for gluten free. Gorgeous Byron Bay baby buttons available in triple chocolate fudge, milk chocolate fudge and gluten free white chocolate. Two individually wrapped baby buttons from the Byron Bay cookie manufacturer, the perfect gift for a wedding, Christmas stocking filler or simply as a table decoration that your visitors can enjoy.
A luxurious black and gold Christmas bon bon containing two bite-sized cookie treats. Made in Byron Bay
Byron Bay Milk Chocolate Chunk Bon Bons: Your Source of Sugar High for the Holiday Rush
Christmas is fast approaching. Are you already experiencing headache in trying to think of good gift hampers ideas? When trying to pick out the best giveaways for the holiday season, one could never go wrong with treats that satisfy the cravings of the stomach. Each one of us possesses a sweet tooth that's raring for the sweetness and richness of the taste of chocolate. There are a lot of products available out there. However, only a few takes into consideration the effects these treats can have in our holiday diet. You don't have to worry anymore as there is a perfect gift Hampers from Byron Bay Cookies that is in store for you!
What Makes Byron Bay Cookies Stand Out from the Rest?
Byron Bay Cookies started small in an old farmhouse in Eastern Australia where the area was widely known for its fresh ingredients that give out interesting flavours. Byron Bay cookies has made it part of its mission to share these wonderful ingredients to the world by producing delightful cookies that highlight the incredible flavours incorporated in each component. It has enlisted the help of one of UK's highly respected bakeries to be able to satisfy the taste buds of its customers.
Byron Bay Cookies has now grown into a formidable brand, producing about a hundred thousand cookies every week all over the country. It has also extended its reach internationally by being served on board in Australia's reputable airlines and with stores already open in the UK. With Byron Bay cookies, you will never go wrong. It has won several accolades in different countries. It has also been accredited by the BRC and HACPP which attests to its commitment to serve only high quality cookies. Byron Bay Cookies are available in different flavours such as Triple chocolate fudge, gluten free white chocolate and a combination of white chocolate chunk and macadamia nuts.
What's Special about the Byron Bay Milk Chocolate Chunk Bon Bon?
One of Byron Bay's most popular cookie flavours and one that you and your friends should definitely try is the Milk Chocolate Chunk Bon Bon. These wonderful treats were manufactured from ingredients even vegetarians will not be able to resist. The whole range of Byron Bay cookies has been evaluated and gained the approval of the Vegetarian Society. It is commonly available in sizes ranging from boxes of 200 grams to 75 grams. The team of Byron Bay Cookies has come up with a smaller version that is suitable for the coming holiday season. A seasonal edition is now available, which is an ideal gift Hampers for anyone that is close to your heart.
Byron Bay Milk Chocolate Chunk Bon Bon now comes in a set of two pieces of Bon Bons making up a substantial size of 25 grams. They are wrapped individually wrapped in an elegant black and gold packaging that can be used as a display in the dining table. It will surely arouse the curiosity of anyone who lays their eyes on the beautiful display. The bon bons can be stashed away in someone's bag and easily taken out once he needs a quick sweet sugar treat.
Once the person makes the first bite, he will immediately taste the richness of the harmonious blend of white chocolate chunks and cookie dough. There is no doubt that your family and friends will be looking for more of this sweet treat once they have consumed their first box. This is surely the gift Hampers you would want to give to give away to people close to your special this holiday season
Why is the Byron Bay Milk Chocolate Chunk Bon Bon the Perfect Christmas Gift Hampers?
Do you want to be simplistic in your gifts this Christmas and stick with giving away sweet treats? Are you frustrated that you don't have the means or skill in producing perfectly baked cookies? Byron Bay Cookies has made your work cut out for you. With its incredible taste, specially made in delectable sizes and wrapped in sophisticated packaging. Surely Byron Bay Milk Chocolate Chunk Bon Bon is a gift hamper your loved ones, colleagues and family would be delighted to receive.