Byron Bay Cookies White Chocolate Macadamia 75g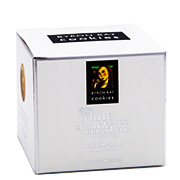 One of the original Byron Bay Cookies! You can never have too many!
Discover one of the Latest Additions to Hamper Emporium's Gift Hampers – Byron Bay Cookies!
The Hamper Emporium is always trying to find the latest products to add to their gift hampers. One of the latest additions to our gift hamper range is the Byron Bay Cookies Box, containing delicious traditional biscuits topped in chocolate and macadamia. Want to know more about Byron Bay Cookies and our range of gift hampers? Find out more about this new addition below!
Tell Me More About Byron Bay Cookies?
Byron Bay Cookies are English products, but with strong ties to Australia. The company bakes approximately 50 million cookies and year and sells them to more than 40 countries worldwide, making them one of the most beloved cookie brands in the world.
The company focuses on the production of cookies and crispbreads, which also includes some gluten-free options. Byron Bay Cookies can come in single wrap, retail boxes and gift boxes, so there is plenty to choose from.
Hamper Emporium has added several cookies from Byron Bay to the gift hampers range. The cookies have been well-received by our customers, so Byron Bay cookies will be a vital part of our gift hampers for many years to come.
Where Can I Find Byron Bay Cookies?
The Hamper Emporium has several gift hampers containing Byron Bay Cookies, so you can find plenty of choice in our range of gourmet or festive hampers. Customers who are looking for Byron Bay Cookies White Chocolate Macadamia in particular will find them in the
Christmas Bites Xmas Hamper
.
Our Christmas Bites Xmas Hamper is the perfect gift for the holiday season. In addition to a box of quality Byron Bay cookies, customers can also find additional high-quality brands such as Partridges Artisan Bakehouse, Anna's Original, Morgan's, Tasmanian Fruits Pastes and Brown Brothers.
Customers who are interested in other Byron Bay releases will find additional options in our range of gourmet hampers. Hampers containing Byron Bay cookies also make a great corporate gift, so do not hesitate to use one of the hampers with Byron Bay Cookies as a corporate hamper!
Other Byron Bay Cookies in Your Range?
The hamper range of Hamper Emporium is packed with Byron Bay products. In addition to the Byron Bay Cookies White Chocolate Macadamia, customers will also find other options such as the Byron Bay Cookies Milk Chocolate Chunk Bon Bons, Byron Bay Cookies Triple Chocolate Fudge Box and more!
How Much Does Hamper Emporium Charge For Delivery?
Customers interested in obtaining a hamper with Byron Bay Cookies will not have to pay a thing, considering the fact that all hampers on the Hamper Emporium are accompanied by a free standard delivery option. Of course, you can always speed up the delivery of your hamper with one of our additional delivery options.
Hamper Emporium offers other delivery options to clients who need their hamper quickly. Popular choices amongst our delivery option range is the next day delivery option, the same day delivery option and the express delivery option.
Businesses who order more than 25 hampers from our range can also benefit from a special bulk delivery option and special pricing arrangements when contacting the Hamper Emporium regarding their order.