Great Temptations Raspberry Swirl Cupcakes 300g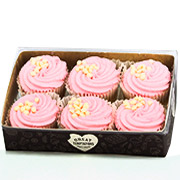 Gorgeous raspberry swirl cupcakes containing the famous Great Temptations flavourings. Delicious cupcakes made with raspberries and topped with a gorgeous layer of frosting. Amazing selection of cupcakes from Great Temptations, contains vanilla, berries and white chocolate dots.
These delicious, moist, decadent cupcakes and covered in a swirl of Raspberry flavoured frosting. How delicious do these raspberry swirl cupcakes look! Moist and beautifully presented to impress every time.
Love Cupcakes? Try The Great Temptations Raspberry Swirl Cupcakes In Our Gift Hampers!
When you love sweetness, it is hard to resist a nice selection of cupcakes. On the Hamper Emporium, you can find several gift hampers containing a gorgeous box of Great Temptations Raspberry Swirl Cupcakes. Want to know more? Discover all there is to know about Great Temptations Raspberry Swirl Cupcakes below!
Why Does Hamper Emporium Use Great Temptations In Their Gift Hampers?
Great Temptations is an Australian company that is known for their remarkable selection of cupcakes. Because of their passion for baked goods and the fresh ingredients they use in their cakes, Hamper Emporium decided to use Great Temptations in some of the sweetest gift hampers.
The Great Temptations bakery was founded by Carl Quarrell in 1991. Carl always had a passion for cakes and cupcakes and loved helping his mum in the kitchen. His passion for baked goods eventually led him to create his own business. Over the course of time, Great Temptations became some of the most demanded cupcakes by supermarkets all across Australia. The unique taste and full flavour of their cupcakes are still unmatched until this day.
Great Temptations has a large range of cupcakes that are known throughout Australia. Some of their releases include the Orange and Poppy, Double Chocolate, Mini Lamingtons, Fairy Cakes and Chocolate Swirls.
What Can You Tell Me About The Great Temptations Raspberry Swirl Cupcakes In Your Gift Hampers?
The Great Temptations Raspberry Swirl Cupcakes are one of the most popular releases from the Great Temptations bakery. The cupcakes itself are made with the finest vanilla and covered with raspberry flavoured frosting. To finish the cupcake, Great Temptations added delicious white chocolate dots on top.
Which Gift Hampers Contain Great Temptations Cupcakes?
Hamper Emporium loves the cupcakes from Great Temptations, so included a number of Great Temptations cupcakes in gift hampers. One of the gift hampers containing cupcakes from Great Temptations is the "Sweet Bites Hamper."
The "Sweet Bites Hamper" is a gorgeous mix of biscuits, cakes and chocolate caramels. Inside the "Sweet Bites Hamper", customers can find the famous Great Temptations Carrot & Walnut Cupcakes. The cupcakes are made with fresh walnuts and carrots and topped with a generous dose of cream frosting.
In addition to the gorgeous cupcakes, there are more treats to be discovered in the "Sweet Bites Hamper." Customers can also count on a nice box of cashew brittle from Old Dominion, Maison Fossier French Galettes, Butlers Dark Chocolate Caramels, Anna's Original Almond Thins, Morgan & Albert's Brown Sugar Candied Peanuts and Luken & May Lemon Citrus Butterbursts.
To discover more Great Temptations Cupcakes, please visit our Christmas gift hampers or our selection of gourmet gift hampers.
Is there any other hamper other than this that consists of those delicious cupcakes too?
Yes, there is. Look for our
Cupcakes & Champagne Hamper
. This hamper consists of Great Temptations Raspberry Swirl Cupcakes and the most-loved champagne, Moet & Chandon Brut Imperial NV Champagne. Raspberry Swirl Cupcakes that not only look amazing but taste simply delicious with every bite.