Handmade Pecan & Date Sharing Slice by SpringHill Farm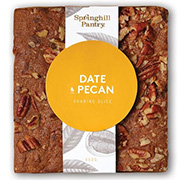 SpringHill Farm slice with high-quality dates and pecans, can be served chilled or warmed-up. Delicious pecans and dates from SpringHill Farm, can be served cold or hot with some fresh cream. SpringHill Farm's finest pecans and moist dates, prepared with cinnamon and spice.
Aussie pecans and moist dates, mixed with cinnamon & spice. Serve in long fingers or small squares or warmed with fresh cream. Homemade recipes are indeed more delicious because mostly are made out of love and passion, no wonder SpringHill Farm became a successful business which started as a hobby. Now, the business is offering more appetising treats and delicious recipes and one of which is the Handmade Pecan & Date Sharing Slice. This scrumptious treat can be served in different preparation, whether it is chilled or warmed, you will have a delicious treat like you never had before. The pecans and dates are made only of the finest quality, top notch products served with the yummy cinnamon flavour and extra spice. If you plan to purchase gift hampers with delectable goodies, make sure to check on The Hamper Emporium first and pick only the best,
gift hampers
with Handmade Pecan & Date Sharing Slice.
How Does Handmade Pecan & Date Sharing Slice Tastes Like?
Gift hampers are great give away not only on holidays but even on ordinary days without the need for special occasions. If you want to give someone special a hamper he or she can munch on ordinary days, why not try to check gift hampers with Handmade Pecan & Date Sharing Slice from SpringHill Farm? This treat tastes so good it moist in your mouth and its flavour is comparable to an ice cream with a nuttier taste, almost like a roasted almond. It also features a touch of cinnamon flavour into it and a little bit of spice which makes it more interesting in terms of its taste. It's unique and pecan flavour definitely exudes which is less bitter as compared to walnuts and other types of nuts out there.
What Gift Hamper Offers the Pecan & Date Sharing Slice of SpringHill Farm?
If you crave for pecans and dates, why not opt for Everything But the Ham Festive Hamper from The Hamper Emporium? This basket is packaged carefully to satisfy customers who are fond of eating high class gourmet products. This basket is offered for free delivery and it includes pantry products you can use in the kitchen like the AB Ginger Syrup perfect if you want to treat your kids with yummy desserts and pair it with milkshakes. There's also the healthy black tea offered by Harney & Sons which can be taken in either hot or cold preparation.
The Spoonfed Foods Snag Jam is also included to enhance the flavour of your meat menus and the stuffing mix of Shropshire is there too to make your dishes delicious. Aside from pantry products, this basket enables you to enjoy its biscuits from Maison Fossier, Baylies Epicurean Delights, Farrah's and of course, the popular Handmade Pecan & Date Sharing Slice by the Victorian based business, SpringHill Farm. There are more items included in this hamper, just make sure to grab this before it runs out of stock.
Is This Hamper Perfect for Different Occasions?
The Everything But The Ham Festive Hamper is highly recommended not only during Christmas but as well as other occasions like Valentine's Day, Father's Day, Mother's Day and even on birthdays and ordinary days. This is a flexible hamper you can grab direct from The Hamper Emporium without worrying if it will fit the occasion or not. It is reasonably priced, stuffed with good quality products and above all, it comes with the Handmade Pecan & Date Sharing Slice by SpringHill Farm, which is truly commendable. So enjoy the yummy tastes of its inclusion. There's no other gift hampers to opt for other than the ones offered by The Hamper Emporium.