James Road Dark Chocolate Coated Strawberries 150g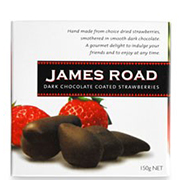 Fresh strawberries topped in high-quality dark chocolate, presented in a beautiful box. Handmade selection of chocolate dried strawberries, made with the finest dark chocolate. Strawberries topped in chocolate containing milk, eggs and wheat, may contain traces of nuts.
James Raod in the Adelaide Hills are makers of fine chocolates and these delicious dark choc coated strawberries are a signature product.
Taste the Deliciousness of James Road's Chocolate Dark Covered Strawberries!
A special occasion or holiday is always a good reason to celebrate and what better way to celebrate than with chocolate covered fruit added to a special occasion gift hamper or Christmas gift hamper. Surprise someone special by adding this popular sweet treat to your gift hamper and you'll be sure to have the best gift in town. Food gifts don't get more romantic or more delicious than this.
We have a lot of gift hampers to choose from, so if you are having a hard time choosing the perfect one, call our customer service team. Tell them what you're looking for and they can help you choose based on your requirements or you customise the perfect hamper.
What is it?
Handmade from choice dried strawberries, smothered in smooth dark chocolate. A decadent delight to indulge your friends and to enjoy at any time. James Road in the Adelaide Hills is the maker of fine chocolates and these delicious dark chocolate coated strawberries are a signature product. These dark chocolate covered strawberries are perfect as a sweet party treat or a romantic dessert for two in their elegant gift box.
Do we have special Christmas gift hampers?
Yes, of course we do! We have special unique Christmas gift hampers, they all include free shipping Australia-wide. You can choose to get corporate gift hampers that are bigger to accommodate multiple people or a smaller hamper for a single person. The James Road chocolate covered strawberries are an awesome add on to any of these hampers to have something extra and super sweet.
What gift hampers could this be paired with?
These strawberries could be paired with any one of our awesome gift hampers but will go fantastic with our chocolate hampers. Especially for our chocolate lovers out there! There are 6 different hampers to choose from in our chocolate basket and a bunch more in our Christmas gift hamper collection. The Spring Picnic Hamper includes these already if you just want a simple basket for a picnic in the park or a romantic night. No matter the hamper, food or sweets you choose you are bound to have a happy recipient.
Can I get this in a bulk order and can I customise my hamper?
Yes, bulk orders are available. You can order online for bulk corporate orders or you can download the bulk order form and email it to us at: corporate@thehamperemporium.com.au.
Yes, you can customise your gift hamper, this is popular for
Christmas gift hampers
as everyone likes something different but minimum quantities do apply for this.
Can I have my hamper directly delivered to the recipient?
Yes, of course! All gifts are beautifully presented and ready to be given as a gift so there is no need to worry about gift wrap. Once you place the order for your hamper or hampers the hardest part is done since you have already picked the best hamper for your occasion.