Jules Des Trooper Butter Crisps 100g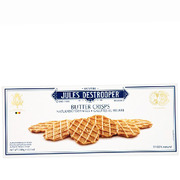 Gorgeous butter crisps made from the finest Belgian butter, still the unchallenged favourite of many. Belgium's most famous biscuit selection, something you definitely cannot afford to miss. Exquisite Belgian butter crisps that made the Jules Destrooper biscuit manufacturer famous.
Purveyor to the Belgian Royal Household, Des Trooper make this golden-crisp butter waffle to the 19th-century family recipe.
Specialising in Belgian production, Jules Des Trooper is one of the popular companies leading the way to impressive selections of biscuits and even cakes. One of its highly in demand waffles is the Jules Des Trooper Butter Crisps in 100g pack. This butter crisps is famous because of its mouth watering Belgian butter prepared in its golden form using the company's very own family recipe that has been in existence since the 19th century. This waffle is so delicious that it is exported everywhere around the globe and as well as loved by most Australians. So if you want gift hampers packed with delicious waffles, make sure to grab one with Jules Des Trooper Butter Crisps in it.

How Does the Belgian Butter Crisps of Jules Des Trooper Tastes Like?

This treat is dipped in a mouth watering Belgian chocolate hence it tastes so buttery and sweet perfect if you're craving for something sweet that comes in just the right amount of crispiness on the outside and its inside simply melts slowly in your mouth. Yes, this waffle butter crisps is really tempting, it oozes with vanilla flavour and will excite your taste buds because of its ample butter ingredient in it. You will really enjoy this treat with friends and even if you're alone. Gift hampers with waffles such as the Jules Des Trooper Belgian Butter Crisps are very enjoyable to have.

What Gift Hamper Offers the Butter Crisps of Jules Des Trooper?

If you are looking for gift hampers with delicious waffles in it, one of The Hamper Emporiums highly recommended gift hampers is International Foodies Hamper. This basket is filled with award winning treats from Rick Stein's product to Le Cordon Bleu, Elsa's Story, Comtesse du Barry and Pollastrini. All these savoury items are included for just an affordable price. The biscuits and sweets in this hamper are also world class, presenting buyers with the very best pastry product from Maison Fossier and the delicious treats from Jules Des Trooper. It comes with Almond Florentines and the popular waffle of the century, the Butter Crisps. To complete this hamper is the exquisite milk chocolate offered by Willie's Cacao. All these can be yours for a good deal. So hurry now, contact The Hamper Emporium and grab gift hampers with impressive product inclusions like no other hamper providers can deliver.

Does This Hamper Comes With Free Delivery Service?

Yes, this hamper comes with free delivery service. As long as the area is within Australia, you are guaranteed to receive your hamper right on time. You can even add a gift card if you want to for free. You can personalise the message you want or simply opt for whatever gift card message The Hamper Emporium has prepared. Where else can you find a good hamper deal other than The Hamper Emporium? Purchase the International Foodies Hamper and munch on its delicious treats like a child, you or your gift receiver will really enjoy this hamper for a low cost.