Jules Destrooper Almond Florentines 100g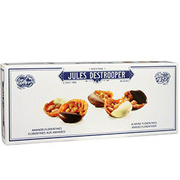 Selection of Jules Destrooper biscuits, which are still being served to the Belgian Royal Court. Gorgeous selection of Jules Destrooper almond florentines, made from the finest Belgian ingredients. Delicious Jules Destrooper almond florentines prepared according to the authentic Belgian recipe.
The Jules Destrooper florentines are crispy caramel biscuits with almonds, dipped in fine Belgian white, milk or dark chocolate.
Combining Belgian Biscuits and Chocolate? Try Jules Destrooper Almond Florentines!
When you think of Belgium, you often think of chocolate. However, Belgium is known for more than chocolate, because their biscuits are pretty amazing as well. So what would happen if you could combine Belgian chocolate with biscuits? Well, you would get Jules Destrooper Almond Florentines! Are you ready to find out more about these delicious biscuits?
What Is Special About Jules Destrooper Biscuits?
Jules Destrooper is a Belgian company that started in 1886. Founder Jules Destrooper was a colonial trader who imported some of the world's most exclusive spices. By using natural ingredients and some of the exotic spices he imported, he discovered a truly unique taste for almond thins, which ended up being some of the most popular biscuits in the world.
Even though Jules Destrooper have been around for a considerable amount of time, they still work with the same natural ingredients and spices they became famous with. However, Jules Destrooper is also innovating, because they regularly release a new biscuit that astonishes even their harshest critics.
What Are Jules Destrooper Almond Florentines?
Jules Destrooper Almond Florentines are made according to the authentic Belgian recipe created so many years ago. The florentines are half dipped in milk chocolate and half dipped in white chocolate, giving you a real taste of all the goodness that Belgium has to offer.
Can I Find Jules Destrooper In Your Gift Hampers?
When you are looking to gift Jules Destrooper biscuits, you are in the right place at Hamper Emporium. Not only can you find the Jules Destrooper Almond Florentines in our gift hampers, you will also find additional Jules Destrooper biscuits, including gorgeous Belgian Chocolate Virtuoso.
In order to see all the Jules Destrooper biscuits in our
gift hampers collection
, please head over to our gourmet gift hampers section. In addition to Jules Destrooper, you can also find other classic brands in our gift hampers, including Maison Fossier.
Do You Have Jules Destrooper In Your Christmas Hampers?
Our Christmas hampers also contain a nice selection of Jules Destrooper biscuits. One of our Christmas hampers with Jules Destrooper biscuits can definitely be considered as a good Christmas gift, especially when you consider some of the other treats you get in each of our Christmas hampers. To see our full selection of Christmas hampers, please select Christmas hampers on the main menu.
Can I Get My Biscuits The Same Day Of Ordering?
Customers in the Sydney Metro area can get their order the same day of ordering. If you want to take advantage of this service, it is recommended you place an order before 1 pm on a business day. Australian customers outside the Sydney metro area cannot take advantage of this service at the moment, but they still get a free standard delivery no matter which gift hamper they choose.
Can I Get More Information About Your Jules Destrooper Hampers?
Would you like to know more about our gift hampers containing delicious Jules Destrooper biscuits? Do not hesitate to call our gift professionals at 1300-459-452 or contact our customer service team at sales@thehamperemporium.com.au.
---