Luken & May Almond & Vanilla Butterbursts 120g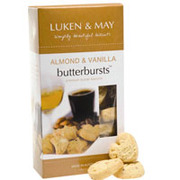 Delicious shortbread biscuits containing vanilla and almonds, made by authentic biscuit brand Luken & May. Gorgeous selection of shortbread, produced with the finest vanilla and freshest almonds. Exquisite box of almond & vanilla Butterbursts, made with the finest ingredients according to a traditional recipe.
Beautifully packaged, these delicate bite-size biscuits from Luken May make the perfect treat for morning tea. Get the ultimate in Vanilla delights, with only the finest ingredients to create the most amazing sweet treat.
Ready to Try a New Vanilla Delight? Experience Luken & May Almond & Vanilla Butterbursts!
Are vanilla cookies one of your favourite cookies? Or are you shopping for someone that adores a good vanilla biscuit? If you are, we have the perfect gift for you, a pack of Luken & May Almond & Vanilla Butterbursts. Whether you like your cookies with afternoon tea or just as a snack in between, Luken & May Butterbursts will be your new best friend.
What Can You Tell Me About The Luken & May Brand?
Luken & May is an Australian brand producing some of the most delicious biscuits. Instead of providing the traditional shaped biscuits, Luken & May is known to create some beautifully shaped biscuits, so they are pleasing to the eye as well as the stomach.
The company started in Byron Bay, where they baked their cookies in an old farmhouse stove. However, thanks to fresh ingredients and their unique flavours, Luken & May soon became a big name in Australia.
In addition to providing delicious biscuits to Australia, you will also find Luken & May biscuits in the rest of the world, so these biscuits are popular internationally as well. Are you ready to see what all the fuss is about? Get your pack of Luken & May Butterbursts today!
Where Can I Find Luken & May Butterbursts In The Gift Hampers Collection?
Have you got your heart set on one of our gift hampers with a pack of Luken & May Almond & Vanilla Butterbursts? Then we can recommend going for one of our
Breakfast in Bed Gift Hampers
. These gift hampers contain the Luken & May Butterbursts you are looking for, but also additional items such as a Belgian waffle iron, an acacia recipe book holder, a recipe book and gorgeous English tea.
Want more biscuits from Luken & May? Head over to our gift hampers collection to see all the Luken & May products we can offer you.
Are There Similar Biscuits In Your Christmas Hampers Collection?
Hamper Emporium loves authentic and traditional flavours, so you will find plenty of them in our Christmas hampers range. Other traditional biscuit brands in our range of Christmas hampers are Maison Fossier, Butlers and Jules Des Trooper, which are also consumed all over the world.
Not only individuals will find what they are looking for in our collection of Christmas hampers, because our Christmas hampers section also has a special section for corporate hampers. Businesses cannot only pick one of the hampers as a business relations gift, they can also add their own logo and company brand with the help of our in-house graphics designer. When you pick a gift hamper with Luken & May biscuits and your company's brand, we can guarantee that they will never forget you.
How Can I Contact Your Customer Service For More Information On Luken & May?
Are you left with a question relating to Luken & May Butterbursts? Or would you like to know more about our corporate branding options? For more information, please call 1300-459-452 or send your specific question to sales@thehamperemporium.com.au. For all questions relating to corporate branding, please send your question to corporate@thehamperemporium.com.au. Delicious bite-sized biscuits that are made using the most authentic recipes and finest ingredients.