Luken & May Lemon Citrus Butterbursts 120g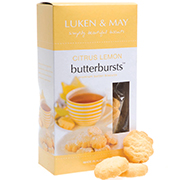 Beautifully packaged selection of shortbread from Luken & May, prepared with the finest local ingredients. Gorgeous shortbread biscuits that will melt in your mouth, suitable for every type of occasion. Traditional selection of Luken & May biscuits made with butter, lemon juice and the finest citrus oil.
Gorgeous buttery bite-sized biscuits made with a hint of lemon and are truly mouth-watering. Made in Byron Bay. Burst of citrus joy! Made in Byron Bay, Luken and May Butterbursts are deliciously rich and sweet. Sweetness beautifully blended with a burst of citrus joy. Luken & May Butterbursts are made in Byron Bay.