Maison Fossier 12 Biscuit Roses 100g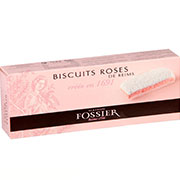 Deliciously crunchy biscuits that can be paired with champagne or a good glass of port. Gorgeous French biscuits from Reims, trademarked by their distinct pink colour, hints of vanilla and the sugar topping. The real jewel of France, delicate French biscuits with a hint of vanilla.
A delicate mixture of eggs, sugar and flour, and flavoured with natural vanilla. Finished with a dusting of icing sugar.
A beautifully presented treat that tastes amazing! Featuring natural vanilla flavours and dusted finish. Try the Ultimate Maison Fossier Treat, Biscuit Roses!

Customers who are familiar with Maison Fossier already know that one of their most famous and most loved biscuits are their biscuit roses. Maison Fossier Biscuit Roses are a gorgeous blend of eggs, sugar, flour and a hint of vanilla. Finally, the biscuit is topped with delicate icing sugar, finishing a true culinary masterpiece. Would you like to try a box of these famous biscuit roses yourself? Find them here on Hamper Emporium!

What Can You Tell Me About The Biscuit Roses From Maison Fossier?

Biscuit roses were invented in France in 1690, so the biscuit carry a lot of history with them. In order to make the most out of the heat generated by his oven between two batches of bread, a French baker decided to make some special dough that would later be known as biscuit roses. However, the original biscuit was a little different to the biscuit we know today. When it was first invented, the biscuit was completely white. Vanilla was added to the biscuit later on, providing it with the exquisite flavour we know today.

Eating biscuit roses is just as luxurious as the biscuits themselves. Instead of eating the biscuit roses as they are, they are dipped in a glass of champagne or wine, bringing out their full flavour. When you purchase one of the gift hampers on Hamper Emporium, you will find that we often include champagne or another accompanying drink that will match the biscuit roses in the same hamper.

What Gift Hampers Contain Biscuit Roses?

Since we absolutely love Maison Fossier biscuit roses, we included them in a large amount of gift hampers on Hamper Emporium. All of these gift hampers also contain an alcoholic beverage that can be used to dip your biscuit roses in.

Gift hampers containing Maison Fossier biscuit roses are: the With Love from France Hamper and many more

Can I Find Maison Fossier Biscuits In Your Christmas Hampers?

Hamper Emporium has also incorporated Maison Fossier in many Christmas hampers. In addition to obtaining one of our Christmas hampers as a Christmas gift, businesses can also come to Hamper Emporium and gift one of these Christmas hampers as a corporate gift.

To make our Christmas hampers even more special, we offer corporate branding options to all businesses. Are you interested in obtaining a Christmas or corporate hamper with the brand of your company clearly displayed? Be sure to contact Hamper Emporium and speak to one of our sales representatives for more details.

The perfect sweet treat to impress for any occasion. A delicious and delicate treat of the finest ingredients.