Maison Fossier French Almond Macarons 100g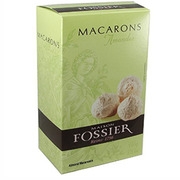 Delicate French macarons with hints of almond, perfect for your afternoon tea. Exquisite selection of Macarons with almond flavour, made by Maison Fossier, the inventor biscuit roses. Delicious French almond Macarons, created by the oldest biscuit factory in France – Maison Fossier.
Whisper-light & delicate, made the traditional way using sugar, egg whites and almond. Made in France. The true taste of French delight is here thanks to these delicious French Almond Macarons. One isn't enough.
Experience a True Taste of France with Maison Fossier French Almond Macarons!
When you want to experience the true taste of France, you will need to try Maison Fossier French Almond Macarons. Biscuit manufacturer Maison Fossier is famous for its delicate biscuits and delicious flavours, so these almond Macarons will not disappoint. Find out more about these almond macarons right here on Hamper Emporium and get your box in one of our gift hampers today!
What Are Macarons?
Even though macarons are consumed all over the world, not everyone is familiar with them yet. A French macaron is a thin meringue cookie that is held together with a nice filling. There are also a lot of variants of the traditional French macaron, so it is likely you have tried something similar before.
Almond macarons are also not the only flavours you will find. Macarons can be purchased with almond flavour, but also with chocolate or custard. Many people also attempt to make these treats themselves and add a filling of their choice, so the macaron recipe is always evolving.
What Gift Hampers Contain Maison Fossier Almond Macarons?
Maison Fossier French Almond Macarons can be found in our Luxury Chocolate & Champagne Hamper, A Little Luxury Hamper,
Luxury Chocolate & Bollinger Hamper
, Premium Office Share Gift Hamper, Pretty in Pink Pamper Hamper, Pure Indulgence Hamper and The Sweetest of Gift Hampers.
At Hamper Emporium, you will have plenty of choice in gift hampers when you want to get some Maison Fossier French Almond Macarons. However, there are additional treats in our gift hampers as well, including some gorgeous butlers chocolates and Jules Des Trooper biscuits. When you are crazy about food and delicious snacks in particular, it is really worthwhile to discover our entire range of gift hampers.
Are There Christmas Hampers with French Almond Macarons?
Customers can find Maison Fossier French Almond Macarons in one of our Christmas hampers, more specifically in the Deluxe Office Share Christmas Hampers. In addition to the almond macarons, you also get another Maison Fossier invention, French Palmier Pastries.
Our Deluxe Office Share Christmas Hampers also contains other authentic biscuit brands, this includes Belgian Butters, Elsa's Story and Anna's Original. In short, when you purchase one of our Deluxe Office Share Christmas Hampers, you will get a true finger licking experience.
How Much Delivery Do You Charge?
When you purchase one of our gift hampers with Maison Fossier biscuits, you do not have to pay a thing. All hampers on Hamper Emporium have a free standard delivery service, so all you are paying for is the products you are receiving. In addition to the free delivery, you can also count on the fact that your Maison Fossier biscuits and other hamper products will come in a luxurious gift box, eliminating the need for you to wrap the gift.
Can You Provide Me With More Information About The Authentic Flavours In Your Hampers?
Are you looking for a gift for someone who loves authentic flavours and do you need some additional advice? Feel free to ask our experts for gift advice. To speak to one of our gift experts, please call 1300-459-452 or send an email to sales@thehamperemporium.com.au. French Almond Macarons crafted using the finest traditional ingredients and techniques for perfection.