Maison Fossier French Galettes St Remi 135g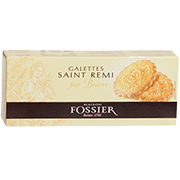 An authentic butter biscuit, following the ancient tradition of the Maison Fossier bake house. Classic, French butter biscuit made from simple ingredients such as butter, sugar, eggs and flour. Exquisite pack of French biscuits made by Maison Fossier, known for their authentic flavours and passion for biscuits.
Made with simple and fresh ingredients these Galettes Saint Remi will be loved by people of all ages.
Do You Like Authentic Flavours? Take Advantage Of Our Gourmet Hampers with Maison Fossier French Galettes!
When you think about authentic flavours, you automatically think about Maison Fossier. France's best known biscuit manufacturer, Maison Fossier, has an incredible way of adjusting authentic recipes to modern times. The same goes for their French Galettes, delicate biscuits you cannot afford to miss!
What Are French Galettes Exactly?
A French Galette can refer to many different things. If you would ask for a Galette in France, you would be getting a large crusty cake. There is also the Breton Galette, which is basically a pancake with a savoury filling. However, the French Galettes we are offering in our range of hampers are large, round cookies.
Maison Fossier French Galettes have a delicious authentic flavour and are still light enough to enjoy with a cup of coffee or a nice cup of tea. French Galettes also make the perfect in between meals snack.
What Gift Hampers Contain French Galettes?
Hamper Emporium has quite a few gift hampers containing French Galettes, because we have to admit we are mad about them. If you are looking for gift hampers containing French Galettes, we can recommend going for our Sweet Bites Gift Hampers,
Classic Port Gift Hamper
or our Premium Office Share Gift Hampers.
In addition to exquisite French Galettes, you will find other delicate treats as well. Our collection of gift hampers also contains handmade Butlers chocolate, authentic Jules Des Trooper biscuits and traditional Elsa's Story cookies. Be sure to check out all the gift hampers in our range, because there are more international delicacies to be discovered.
Are There Christmas Hampers With French Galettes?
Customers will also find Maison Fossier French Galettes in our Christmas hampers. Two of our Christmas hampers containing these galettes are The Best of All Christmas Gift Hampers and our Indulgence Xmas Hampers.
Would you like to try more Maison Fossier biscuits? Then be sure to have a look at all the Christmas hampers available on Hamper Emporium. We regularly add new Christmas hampers and always include the latest products coming from Maison Fossier, so it is worth keeping an eye out for them!
Do I Have To Pay For Delivery?
When you buy a gift or Christmas hamper from Hamper Emporium, you do not have to pay a thing. All gift and Christmas hampers are eligible for free standard delivery, so no matter where you live in Australia, you can always take advantage of this feature.
In addition to the free standard delivery, there is also a same day delivery. This particular option is only available for customers with a Sydney Metro postcode and requires an additional fee of $22.95. To take advantage of this option, please select the same day delivery during the checkout process.
Can I Contact You With A Question About French Galettes?
Would you like to know more about French Galettes before you can buy one of our gift hampers? Or would you like to find out more about French biscuit manufacturer Maison Fossier? Feel free to call our customer service team at 1300-459-452 or email your question to sales@thehamperemporium.com.au.
---