Maison Fossier French Gingerbread Fondant 250g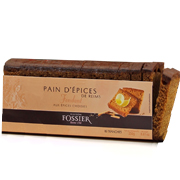 Gorgeous gingerbread fondant, made according to a family recipe from Maison Fossier. Real French gingerbread fondant with a slight pepper finish, baked according to an authentic family recipe. Delicious gingerbread fondant that does incredibly well during the holidays thanks to its rich and authentic flavour.
An authentic family recipe is used to create this gingerbread with a balanced flavour and slightly peppery savoury finish.
Do You Love Your Gingerbread? Experience Maison Fossier French Gingerbread Fondant Today!
There would be no Christmas without a good piece of gingerbread. If you are one of those people that absolutely adores gingerbread, we can recommend trying Gingerbread Fondant from Maison Fossier. Gingerbread Fondant from Maison Fossier is packed with flavour and will never disappoint, so be sure to read on to discover more about this gorgeous treat.
What Can You Tell Me About Maison Fossier Gingerbread Fondant?
The recipe for Maison Fossier Gingerbread Fondant was first created in France in the 16th century. Ever since, this particular gingerbread has been an all-time favourite for many people in France. However, the Maison Fossier pastry chef took another look at the traditional gingerbread fondant in 2008 and created a modern new recipe. The result? A traditional gingerbread fondant with hints of aniseed and caramelised sugar.
Maison Fossier is also known for other gorgeous French treats. In addition to this gorgeous gingerbread fondant, you will also find French delicacies such as biscuit roses, palmier pastries and much more. All these treats can also be found in our collection of gift hampers.
Can I Find This Gingerbread Fondant In Your Gift Hampers?
Given the fact that gingerbread is mainly a Christmas treat, you will not find it in our regular gift hampers but you will find it in our Christmas hampers. However, this does not mean you cannot take advantage of our regular gift hampers, because you will find a number of other French treats coming from Maison Fossier.
Customers who are looking for Maison Fossier biscuits in particular, should head over to our gourmet gift hampers. In addition to Maison Fossier, you will also find other traditional brands that are known all over the world, including Jules Des Trooper, Butlers and Elsa's Story.
Are There Christmas Hampers Containing Maison Fossier Gingerbread Fondant?
When you are looking for Gingerbread Fondant, you can be sure you will find it in our Christmas hampers. If you are looking for Maison Fossier Gingerbread Fondant in particular, we can recommend the following Christmas hampers: Everything but the Ham Festive Hamper, Christmas Bites Xmas Hamper and the Indulgence Xmas Hamper.
The majority of our Christmas hampers also contain a nice bottle of bubbly, so if you like to enjoy a nice glass of alcohol with your gingerbread, you cannot go wrong with one of our Christmas hampers. Businesses who would like to gift one of these hampers to their business relations can also opt for our corporate branding, which makes it possible for you to add your company's brand to the hamper of your choice. If you want to take advantage of this option, do not hesitate to contact Hamper Emporium or surf to our corporate
hampers for more information.
Where Can I Get More Information On Gingerbread Fondant?
All customers who have questions about any of the products displayed on Hamper Emporium can contact our customer service department. To speak to a customer service representative, please call 1300-459-452. Outside office hours you can also contact us by sending an email to sales@thehamperemporium.com.au.