Maison Fossier Raspberry Macarons 100g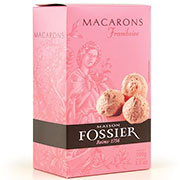 Traditional Maison Fossier macarons made according to a secret recipe belonging to Maison Fossier. Variation of the normal Maison Fossier macarons, infused with gorgeous raspberries. Authentic French macarons with raspberries, easy to combine with a delicious cup of coffee.
These delicate pastry biscuits, infused with the delicious taste of raspberries, are as comfortable on the edge of a coffee cup in a decorated cake.
Do You Have A Love For French Biscuits? Try Our Maison Fossier Raspberry Macarons!
Good wine is not the only thing coming from France, because you can also count on some delicious biscuits of French origin. One of the most exquisite French brands creating delicious biscuits is Maison Fossier, which is also a brand you will often find on Hamper Emporium. One of the biscuits we can recommend are Maison Fossier Raspberry Macarons. Read on to find out more about this French delicacy and why they are one of our favourites.
Can You Tell Me More About Maison Fossier?
Maison Fossier is a French company dedicated to creating the most delicious biscuits and treats. They have succeeded in building up their reputation all over the world and even the most critical food lovers can definitely appreciate Maison Fossier treats.
The collection of biscuits available from Maison Fossier is very diverse. The best known biscuits in their range are probably their biscuit roses, but their raspberry macarons are very popular as well. In addition to biscuits, you will also find cake and chocolate carrying the Maison Fossier brand.
What Can I Expect From These Biscuits?
Maison Fossier Raspberry Macarons are biscuits made from delicate pastry, mixed with the most exquisite raspberries. If you like biscuits with a fruity flavour, you will not be disappointed when you choose raspberry macarons from Maison Fossier. Raspberry macarons can be eaten as they are, or you can combine them with a nice cup of coffee.
Can I Find Maison Fossier In Your Gift Hampers?
Hamper Emporium is crazy about Maison Fossier, so you will find them quite frequently in our gift hampers collection. Customers will be able to find Maison Fossier in our
corporate gift hampers
and gourmet gift hampers, so you will have plenty of choice. In addition to raspberry macarons, customers will also be able to find more popular Maison Fossier biscuits, including their biscuit roses.
Do you like the idea of some Maison Fossier raspberry macarons? Be sure to head over to our gift hampers and grab one of them today! Whether you are buying them for yourself or someone else, we can guarantee that the result will always be happiness.
Do You Have Maison Fossier In Your Christmas Hampers?
Our range of Christmas hampers also has a good amount of Maison Fossier delicacies. One of the Christmas hampers containing Maison Fossier delights, and a true recommendation, is the International Foodies Hamper. On top of the Maison Fossier pastries, you will also get some Belgian biscuits from top brand Jules Des Trooper.
However, there are a lot more Christmas hampers containing Maison Fossier biscuits. So be sure to check out all our Christmas hampers to find the perfect choice for you.
How Do I Contact Hamper Emporium For More Information On Maison Fossier?
Are you left with a question about Maison Fossier biscuits? Or would you like some gift advice from our professionals? Give our customer service team a call at 1300-459-452 to speak to a sales representative. Alternatively, you can also get your question answered by sending a message to sales@thehamperemporium.com.au.