Morgan's Christmas Roasted Cinnamon Almonds 175g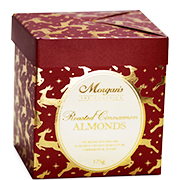 Delicately roasted Australian almonds blended with premium cinnamon and fine sugar. A combination meant to be! The ultimate Christmas treat with a gorgeous mix of cinnamon, sugar and premium roasted Almonds. Selection of fresh, Australian almonds roasted in a mix of cinnamon and sugar. Total flavoursome joy!
Premium Australian almonds freshly roasted in cinnamon and sugar, the perfect Christmas sweet. Best enjoyed with a wine.
Cinnamon and sugar beautifully complement the premium Australian almonds in these gourmet Morgan's nibbles.
Made in Sydney with the finest quality Australian almonds and the perfect blend of cinnamon sugar. A very festive treat.