Morgan's Christmas Roasted Cinnamon Almonds 175g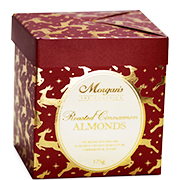 Delicate mix of Australian nuts blended with premium cinnamon and fine sugar. The ultimate Christmas treat – a gorgeous mix of cinnamon, sugar and premium Almonds. Selection of fresh, Australian almonds roasted in a mix of cinnamon and sugar.
Premium Australia almonds freshly roasted in cinnamon and sugar, the prefect Christmas sweet. Cinnamon and sugar beautifully complement the premium Australian almonds in these gourmet Morgans nibbles. Made in Sydney with the finest quality Australian almonds and the perfect blend of cinnamon sugar.
---