Morgan's Crème Brûlée Roasted Peanuts 175g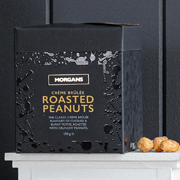 The perfect Christmas peanuts with the taste of Crème Brulee and traditional toffee. Made in Sydney. A selection of crunchy roasted Australian peanuts with a classic caramalised toffee flavour. Roasted peanuts with a hint of Crème Brule and custard for those who love traditional Christmas treats.
The classic crème brûlée flavours of custard and burnt toffee roasted with crunchy peanuts.
Austraian nuts roasted with the deliciousness of crème brûlée custard and toasted toffee, made in Sydney.
Lovingly made in Sydney to celebrate the joy of crème brûlée Christmas delights by Morgan's.
---