Morgan's Dark Chocolate Coffee Beans 175g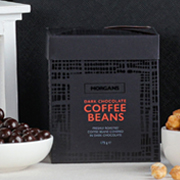 Unique deliciousness; Morgan's combination of coffee beans covered in 50% cacao dark chocolate. Roasted coffee beans topped in delicious premium dark chocolate. Made in Sydney. Exquisite selection of coffee beans, topped with the finest 50% dark chocolate.
Freshly roasted coffee beans covered in smooth, rich 50% cocoa dark chocolate. Made in Sydney.
Coffee lovers will go crazy for these delicious coffee beans coated in rich, smooth chocolate.
Rich 50% cocoa chocolate coats quality coffee beans for a delicious snack coffee lovers will adore.
---