Morgan's Christmas Dark Chocolate Coated Ginger 175g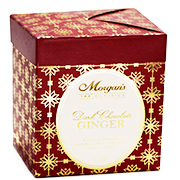 Gorgeous Australian ginger covered in 50% dark chocolate, made by elite brand Morgan's. Chocolate coated ginger produced in Australia with the finest local ingredients for perfect taste every time. An exquisite piece of dusted Australian ginger, topped with the finest premium dark chocolate.
Dusted Australian ginger covered in 50% cocoa premium dark chocolate. Made in Sydney. The perfect Christmas treat from Morgan's gourmet; featuring Australian ginger and smooth dark chocolate. Australian ginger beautifully presented with a smooth, silky, dark chocolate coating for a gourmet treat.