Morgan's Christmas Dark Chocolate Coated Ginger 175g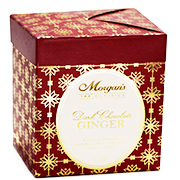 Gorgeous Australian ginger covered in 50% dark chocolate, made by elite brand Morgan's. Chocolate coated ginger produced in Australia with the finest local ingredients. An exquisite piece of dusted Australian ginger, topped with the finest premium dark chocolate.
Dusted Australian ginger covered in 50% cocoa premium dark chocolate. Made in Sydney. Ginger and chocolate mixed into one, who can resist such delectable sweet taste? The Morgan's Christmas Dark Chocolate Coated Ginger comes with a strong flavour of ginger and balanced with its sweet and delightful dark chocolate coat. This product is made in Australia using its safe and healthy local ingredients. So if you love to settle and munch on Australia's finest goodies, this one is simply perfect. In addition, this ginger is said to be coated with dark chocolate cocoa premium of about 50%, therefore it gives you not only sweetness but as well as an igniting flavour of ginger in what can be called a deliciously mesmerising taste. There are many gift hampers offering this particular product and let's explore these gift hampers before it runs out of stock.
Will You Find the Morgan's Christmas Dark Chocolate Coated Product in Australia's Finest Sparkling & Chocolates Hamper?
If you desire for more products from Morgan's, this hamper is just what you need as it comes with not just one but two products from Morgan's, the Crème Brûlée Roasted Peanuts and the highly in demand Christmas Dark Chocolate Coated Ginger. These two can lighten your mood this Christmas and can even bring smiles to everyone in the house. Aside from these yummy goodies, you get to taste the sparkling quality of Methode Traditionelle King Valley Pinot Noir Chardonnay NV by the popular Brown Brothers. To complete your delectable hamper experience, you also get to lavish on different chocolates from Butlers and Willie's Cacao. This hamper is economical leaving you with enough budget to purchase for other gift hampers for more friends and family members.
What's Great About the Christmas Red Wine & Chocolates Hamper?
What's great about this hamper is the fact that it will give you almost everything you need to be able to celebrate Christmas without spending too much! This hamper is offered with free delivery Australia wide. It features delicious treats and to start with is the appetising dark chocolate coated ginger of Morgan's. This treat is truly impeccable; the ginger flavour oozes as well as its cocoa powder ingredient. Next is the chocolate pastry of Maison Fossier which is perfect as dessert, and the triple choc fudge and milk Choc Chunk Bon Bon of Byron Bay Cookies. You will also receive the fruity and sweet flavours of Pinot Noir from Devil's Corner. Chocolate add on is also present from Willie's Cacao and Maxim's de Paris.
Are There More Gift Hampers Offering Morgan's Christmas Dark Chocolate Coated Ginger?
There are many gift hampers offering your favourite dark chocolate coated ginger from Morgan's. There's the Festive Bubbles & Chocolate Hamper for a reasonable amount and comes with free delivery too. There's the Champagne Festive Hamper, the Chocolates & Red Hamper, and the Chocolates & Red Hamper with Premium Scarpanto. All these are offered to meet your needs for this holiday as well as give joy to you and your gift recipients. So when you need premium goodies for Christmas, fail not to check on The Hamper Emporium for this site comes with certified gift hampers filled with impressive goodies and products you will find hard to resist.
---