Morgan's Honey Roasted Peanuts 175g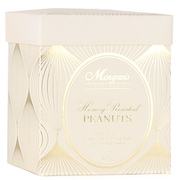 Beautiful gift box containing delicious peanuts, which have been roasted in sweet Australian honey. With peanuts roasted for that perfect crunch, then coated using 100% Australian honey; a delicious snack. Crunchy peanuts roasted in real Australian honey, providing a new balance of sweetness and saltiness.
From 'The Classics' range, these delicious, crunchy peanuts are roasted in 100% Australian Honey.
Beautifully manufactured in Sydney by Morgans featuring Australian honey and deliciously crunchy peanuts.
The crunch of the peanuts adds vibrant texture and the delicious 100% Australian honey simply delights.
---