Morgan's Christmas Milk Chocolate Cranberries 175g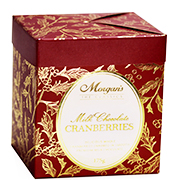 Morgan's finest selection of cranberries with an added layer of Australian chocolate. Australian produced Christmas milk chocolate infused with gorgeous, fresh cranberries. A traditional Christmas treat with cranberries and a layer of premium milk chocolate.
A Christmas treat of delicious whole cranberries enrobed in smooth premium milk chocolate. Made in Sydney. One of Morgan's delectable products; the Morgan's Christmas Milk Chocolate Cranberries that comes with a twist in flavour. This treat is made of cranberries wrapped in thick layers of the finest Australian chocolate you could ever have. The cranberries taste delicious, sweet and totally fresh, leaving you or your gift recipient an unforgettable Christmas gift. This is why gift hampers must be filled with premium products, to deliver gifts with impact this holiday. The Hamper Emporium has gift hampers with Morgan's Christmas Milk Chocolate Cranberries in it, so let's find out what are these and its other inclusions.
What Are Included in the Christmas Bites Xmas Hamper?
A beautiful treat this Christmas is the Christmas Bites Xmas Hamper, offered by The Hamper Emporium with free delivery at an affordable amount. This Christmas, enjoy the season and share the goodies with close pals to create unforgettable memories. Savour the yummy tastes of Partridges Artisan Bakehouse crackers and the Quince pastes of Tasmanian. Enjoy the Butlers chocolate as it melts in your mouth! There's also the 2013 Brown Brothers Heathcoate '18 Eighty Nine' Shiraz that you can pair with other goodies while having a fun Christmas conversation with friends and love ones.
Of course, biscuits will never be forgotten and this hamper includes only the best quality biscuits such as the Anna's, Byron Bay Cookies and most of all, the Morgan's where you get to taste its appetising Christmas Milk Chocolate Cranberries in 175g pack. Check The Hamper Emporium now for different gift hampers that will not only satisfy your taste buds but will also fit your budget.
Is There Morgan's Christmas Milk Chocolate Cranberries Included in the Indulgence Xmas Hamper?
Craving for French chocolate coated cranberries is not a problem, for this delight can now be purchased along with different gift hampers from The Hamper Emporium. The Indulgence Xmas Hamper is one of those gift hampers offering the Milk Chocolate Cranberries of Morgan's. Aside from this, it is also filled with scrumptious goodies like the ginger fondant with a touch of pepper by the Maison Fossier and its French galettes too. Baylies Epicurean Delights proudly presents its handmade cake intended for this holiday celebration. If you need a twist of flavour with your ginger thin biscuits, you can purchase Anna's and enjoy the combination of wheat flour, yummy syrup, some ginger, vegetable oils and the sweet tempting cinnamon. There's also the Honey Roasted Peanuts of Morgan's which brings your gift basket to a whole new level of hamper preparation.
What Can You Expect from The Deluxe Office Share Xmas Basket?
One of the luxurious gift hampers online, this basket is filled with premium goodies that will turn your Christmas into a memorable one. Aside from the inclusion of Morgan's Christmas Milk Chocolate Cranberries, you get to savour different flavours of goodies ranging from ginger bread, hazelnuts, pastries, pudding, chocolate biscuits, panforte and many more; all these products coming from popular food manufacturers. There are champagnes too like the Bollinger Special Cuvee Brut NV and the 2010 Cellar Release Shiraz of Brown Brothers. Chocolates are also present, from Butlers, Willie's Sierra Leone and Willie's Cacao. This hamper is hard to ignore because of its amazing inclusion. If you desire for luxurious gift hampers, make sure to check The Hamper Emporium before any other hamper provider online.
---