Morgan's Christmas Milk Chocolate Cranberries 175g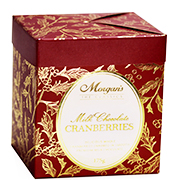 Morgan's finest selection of cranberries with an added layer of Australian chocolate. Australian produced milk chocolate, infused with gorgeous, fresh cranberries. A very festive treat! A traditional Christmas treat with cranberries and a layer of premium milk chocolate. Makes a lovely afternoon nibble.
A Christmas treat of delicious whole cranberries enrobed in smooth premium milk chocolate. Made in Sydney.
Christmas Joy in one little treat from gourmet brand Morgans. Delicious cranberries with chocolate, yum!
Nobody will want to share these! Delicious morsels of Christmas joy from Morgan's Gourmet!
---