Old Dominion Cashew Brittle 113g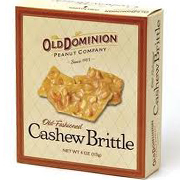 The finest cashew brittle in all Australia, produced by Old Dominion since 1913. Cashew brittle made by Old Dominion according to an old secret recipe. Made according to a traditional recipe with plump cashews and butter.
This cashew brittle will melt in your mouth leaving you with a soft lingering finish of sweet buttery cashews.
Love The Taste Of Traditional Brittle? Discover Old Dominion Cashew Brittle In Our Gift Hampers!

Everyone who loves the taste of a good old-fashioned cashew brittle will not be disappointed when they shop for gifts on Hamper Emporium. Given the fact that we also adore a good amount of cashew brittle, we included one of the best cashew brittles in our hampers, more specifically Old Dominion Cashew Brittle. Read on to find out more about this traditional treat!

Why Should I Choose Old Dominion Cashew Brittle?

There are many reasons why you need to choose Old Dominion Cashew Brittle as a gift. Old Dominion is a company based in Norfolk, Virginia, focussing on the creation of delicious nut treats. However, Virginia is an area that is famous for its peanuts as well, so this company also creates some gorgeous peanut brittle, which you can also find in our range of hampers.

Old Dominion was founded in 1913 and has been making gorgeous nutty treats for more than a hundred years. Such experience also comes with exquisite flavour, so we are sure you will not be able to find any better than cashew brittle from Old Dominion.

What Gift Hampers Contain Old Dominion Cashew Brittle?

The Old Dominion Cashew Brittle can be found in two of our exclusive gift hampers, the Sweet Bites Hamper and Premium Office Share Gift Basket. Our Sweet Bites Gift Hampers are perfect for a birthday or anniversary, while our Premium Office Share Gift Hampers are absolutely perfect for an office celebration or as a corporate gift.

Any Christmas Hampers Containing Cashew Brittle?

Old Dominion Cashew Brittle can also be found in our collection of Christmas hampers, simply because there is nothing better than to celebrate Christmas with one of these traditional treats. Customers looking for Old Dominion Cashew Brittle will find it in our Indulgence Christmas hampers, a perfect blend of traditional treats.

Customers who really enjoy brittle or other traditional treats will find other possible choices in our Christmas hampers as well. Additional traditional brands you can find in our collection of Christmas hampers are Maison Fossier, Elsa's Story and Butlers Chocolates.

Do You Deliver?

When you purchase one of our gift or Christmas hampers, we will deliver it on your doorstep. Hamper Emporium delivers all across Australia and offers a free standard delivery to every customer. However, there are some additional options for customers living in Sydney Metro. If you live in Sydney Metro, and need an urgent gift, then you can take advantage of our same day delivery option.

The same day delivery option of Hamper Emporium is available for the additional fee of $22.95. If you want to get the same day delivery option, we do recommend ordering before 1 pm on a weekday. That way we can guarantee your hamper will get delivered the same day. Orders after 1 pm will be shipped on the next business day.

Can I Contact Hamper Emporium For Additional Info About Hampers?

Would you like to gift something truly special? Do you need the advice of our experts? Give us a quick call at 1300-459-452 or send your question to sales@thehamperemporium.com.au. For more information about corporate branding, please send your question to corporate@thehamperemporium.com.au.