Pisti Sicilian Almond & Pistachio Cookies 150g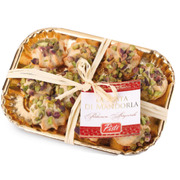 Italian biscuits prepared with the finest pistachios and Italian almonds by Pisti. Biscuits providing the true Italian flavour thanks to Sicilian almonds and a slight hint of pistachio. Some of the finest Italian biscuits prepared with fresh almonds and pistachios.
These delicious biscuits made in Italy using the finest ingredients, start with a base of Sicilian almonds ground into a delicate dust.
Looking For the Ultimate Treat? Go for True Italian Flavour with Pisti Sicilian Almond & Pistachio Cookies!
Customers who like Italian treats will be absolutely delighted with one of our gift hampers containing Pisti Sicilian Almond & Pistachio Cookies. There are many Italian treats that are served in classy restaurants, including these Sicilian Almond & Pistachio cookies. Therefore, they could not be missing from our collection of luxurious gift hampers. Want to find out more about these delicious cookies? Find out everything about them on Hamper Emporium!
Who Is Pisti?
Pisti is one of the top brands where Italian treats are concerned. In addition to using only using high-quality ingredients, Pisti also guarantees a delightful gastronomical experience with every treat you taste. All the treats provided by Pisti are also made according to ancient Italian tradition, letting you experience the taste of Italy no matter where you are.
Hamper Emporium absolutely adores Italian treats, especially the treats provided by Pisti. For that reason, we have incorporated this gorgeous box of Pisti Sicilian Almond & Pistachio Cookies in our gift hampers and Christmas hampers.
What Gift Hampers Contain Pisti Sicilian Almond & Pistachio Cookies?
Customers can find gorgeous Pisti Sicilian Almond & Pistachio Cookies in two of our most luxurious Christmas hampers, more specifically our
Festive Cheer Holiday Hamper
and the Gourmet Treats Festive Hamper. Each of these hampers also contain some additional treats, including Tasmanian fruit pastes, Maison Fossier pastries, almond thins and so much more. If you really do not know what to give someone for Christmas this year, you really cannot go wrong with one of these hampers.
Are There More Christmas Hampers with Italian Treats?
Looking for a Christmas hamper filled with Italian goodies? Then we can definitely recommend having a look at our range of Christmas hampers. Not only will you find some Italian delicacies, you can also count on some luxurious, Australian products as well.
Searching for your perfect Christmas hamper is easier than you might think. In order to make your choice easier for you, Hamper Emporium has arranged all Christmas hampers into three categories: corporate hampers, chocolate hampers and gourmet hampers.
Do These Cookies Come In A Gift Box?
All of the gift hampers on Hamper Emporium come in a luxurious keepsake box, so you will never have to worry about wrapping your gift. The box is also displayed in the picture of the respective gift hamper, this way you will have a better idea of how your gift will be presented.
When Can I Expect My Cookies To Arrive?
Hamper Emporium delivers these exquisite treats all across Australia. The delivery time of your Pisti Sicilian Almond & Pistachio Cookies depends on your location. For more details on your specific delivery time, please head over to our delivery page.
Customers who shop for their Pisti Sicilian Almond & Pistachio Cookies at Hamper Emporium can also take advantage of our free standard delivery service, meaning you will not pay anything extra to enjoy these gorgeous cookies!
Can I Contact You If I Have More Questions About These Italian Cookies?
Do you have a specific question about our Pisti Almond & Pistachio Cookies? Or would you like to know more about our gift hamper services? Give our expert team a call at 1300 459 452 or send your question to sales@thehamperemporium.com.au.