Ultimate English Seasalt Caramel Fudge 150g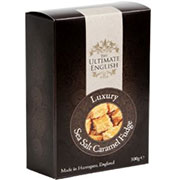 Gorgeous pieces of fudge with the smoothness of butter and a nice salty aftertaste. An English fudge combination made with butter and a hint of sea salt. Traditional English fudge, broken down by hand and finished with a hint of sea salt.
A creamy, medium brown coloured fudge with a buttery flavour that leaves you with a salty after taste.
Craving for the ultimate English Seasalt Caramel Fudge?
Everyone loves to have nice and delicious fudge as breakfast or lunch or for dessert during dinner. It goes along well with any other beverage which includes a glass of juice or a cup of hot chocolate. English Seasalt Caramel Fudges are very delicious as it is creamy. It is medium brown in colour with a buttery flavour that leaves you with a salty aftertaste. Its soft and buttery texture is mouth-watering, so tasty that you will not stop eating it! A rich, smooth and delicious fudge is what everyone wants. Come on down to The Hamper Emporium to look for your favourite goodies!
Can I still find many other delicious goods in the Gift Hampers or Christmas Hampers on The Hamper Emporium?
You can always find the most delicious goodies in all of our Gift Hampers and Christmas Hampers. From Gift Hampers, Corporate Hampers to Christmas Hampers and more! There is more to discover on The Hamper Emporium.
At The Hamper Emporium, all of our hampers offer only the finest products and all of our hampers are beautifully wrapped. You also have the option to choose our luxurious selection of hampers, packed with luxury. In fact, for those who have extreme cravings for sweets, you can always find the best and most delicious, mouth-watering candies, biscuits and lots more. How about chocolates and pastries? Yes, you can definitely find those goodies in our Gift Hampers or Christmas Hampers.
Our gourmet hampers are not like any other gourmet hampers for many reasons and you'll soon discover why by browsing through our wide selection of beautiful hampers. When you think about the most suitable gift, the things that will usually come to mind are the affordability of the gift, the quality, the presentation and the overall impact of your gift. At The Hamper Emporium, our hampers will satisfy all of these conditions.
How do I purchase the Gift Hampers and Christmas Hampers?
Have you found your favourite Gift Hamper or Christmas Hamper for your family or dear friends? It is very easy to make a purchase. We at The Hamper Emporium, make sure that you get the right hampers. With the most delicious treats, beautifully wrapped at an affordable price, who wouldn't love it? Anyone who gets to receive these quality goods as gifts are as lucky as they can be! They would definitely love these Gift Hampers or Christmas Hampers.
Purchase them now by logging onto our website and select your favourite hamper. There will be a checkout stage where you can make payment and select your mode of delivery for your Gift Hamper or Christmas Hamper. Or you can give us a call if you need help with the purchase at 1300 459 452.
Or drop us an email at sales@thehamperemporium.com.au
Our staff will be very pleased to be at your service! Happy Shopping!
How much is the cost of delivery?
Let us share the good news with you! Our standard delivery service is FREE Australia-wide. Options to upgrade to Express Delivery are displayed at checkout and detailed on our website. What are you waiting for? Grab your hampers today!