Sympathy Hampers
---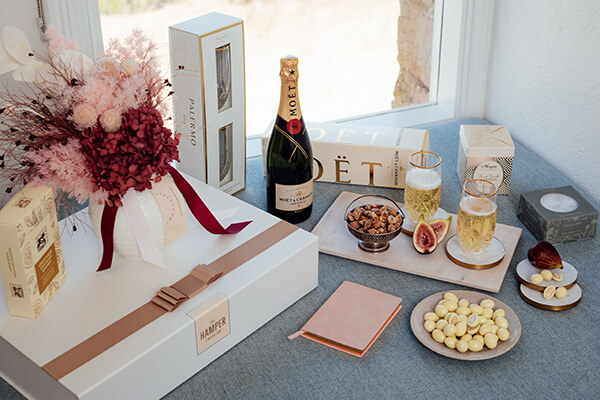 Most people need some support sooner or later when they encounter challenging times. On these occasions, close...
Read Full Post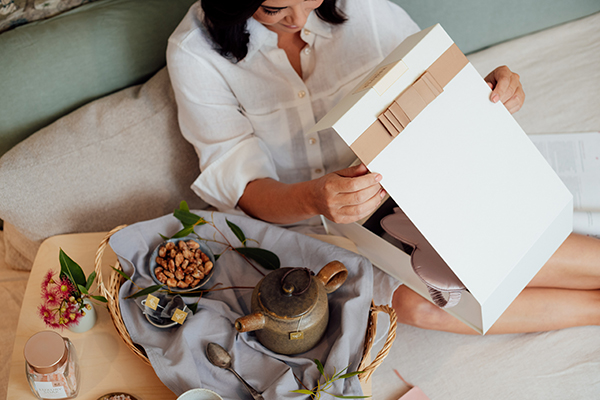 7 Reasons Why Tea Makes A Thoughtful Gift Tea brings people together. There's nothing quite like catching u...
Read Full Post
Sympathy hampers Australia
Gifting someone a thoughtful sympathy gift hamper or a condolence gift is a beautiful yet subtle gesture that shows you're there to support them during this difficult time. Gifts can often convey messages in a way that words can't. Whether you're looking to say "I love you", "I'm here for you", "we'll get through this together", or anything else in between, sympathy hampers will help you convey your thoughts.
The Hamper Emporium's sympathy gift baskets come with free shipping and a premium card that you can customise with a sympathetic message.
Explore our range today.
Our most popular sympathy hampers
These are our top-selling sympathy hampers for 2023:
FAQs about sympathy hampers
In this section, we'll answer your most common questions about sympathy hampers.
What do you put in a sympathy hamper?
A sympathy gift box often contains items like tea, nuts, homewares, self-care products, preserved flowers, bath robes, essential oils, gourmet biscuits, comfort food, keepsake items, and wine or champagne.
What are the best items to send to show sympathy?
Thoughtful condolence gifts and sympathy gifts help someone de-stress and take time for themselves during a difficult, sad time. The best items to send as condolence gifts include gift cards, gift boxes, chocolates, wine, champagne, preserved flowers, live flowers, and self-care items.
Is it appropriate to send a gift basket as a sympathy gift?
Yes, condolence hampers are a very thoughtful sympathy gift for a relative or close friend. Food, fruit, or a gourmet basket are also appropriate and thoughtful gifts.
What can I get instead of sympathy flowers?
If you don't want to send flowers, a sincere sympathy hamper, gift card, food, gift box, or care package are all great gifts to give someone during a difficult time. We recommend adding a thoughtful card to your gift as well. It can really show the giftee that you're there for them.
Can you get sympathy hampers delivered?
Yes. The Hamper Emporium, for example, can deliver hampers straight to your gift recipient's door. We ship Australia-wide. We can even accept orders from people out of state or internationally.
Where to buy sympathy hampers in Australia?
The Hamper Emporium is a great place to buy meaningful sympathy gifts. You can purchase any of our hampers online in just a few seconds. We'll take care of the organising, packing, and shipping for you. We can even print a message on a card for you.
What are some appropriate sympathy gift hampers?
The A Touch of Luxury Hamper is a thoughtful and appropriate sympathy gift hamper for men, women, and families. This hamper includes roasted peanuts, French vanilla almonds, caramelised peanut brittle, cocoa-dusted roasted peanuts and almonds, Belgian wafers, and some thoughtful keepsakes. It's the perfect gift for someone who is grieving.
Our Wish You Well Hamper is also a great sympathy hamper. It comes with a bottle of Mr Riggs Sulis Langhorne Creek Cabernet, a Himalayan rock salt and grater set, a waffle tea towel, and a bottle of hand wash from The Cove Jervis Bay.
When should you send sympathy gift hampers?
The most common time to send someone a sympathy gift basket is within two weeks of their loved one passing away. However, many people also choose to give a sympathy gift at a funeral, wake, or commemoration of life service. It depends on how well you know the grieving person and their preferences.
How long will my sympathy hamper take to arrive?
It takes us:
1-5 business days to ship hampers to NSW, VIC, and QLD metro areas
3-6 business days to ship hampers to TAS and SA metro areas
5-12 business days to ship hampers to Perth, Darwin, and regional areas
We also offer express shipping that can speed up delivery times to three business days or less.
Show how much you care with our stunning sympathy hampers
The Hamper Emporium's thoughtful sympathy gifts can help you show someone who is going through a tough time that you're there to support them. Our hampers are suitable for men, women, families, and friends. They come with free shipping and a premium card you can add a sympathetic message to.
Explore our range of sympathy hampers today.