The Deluxe Christmas Hamper
Share The Love With An Incredible Gesture
FREE Delivery Australia-Wide
Or 4 interest free payments of $224.75 with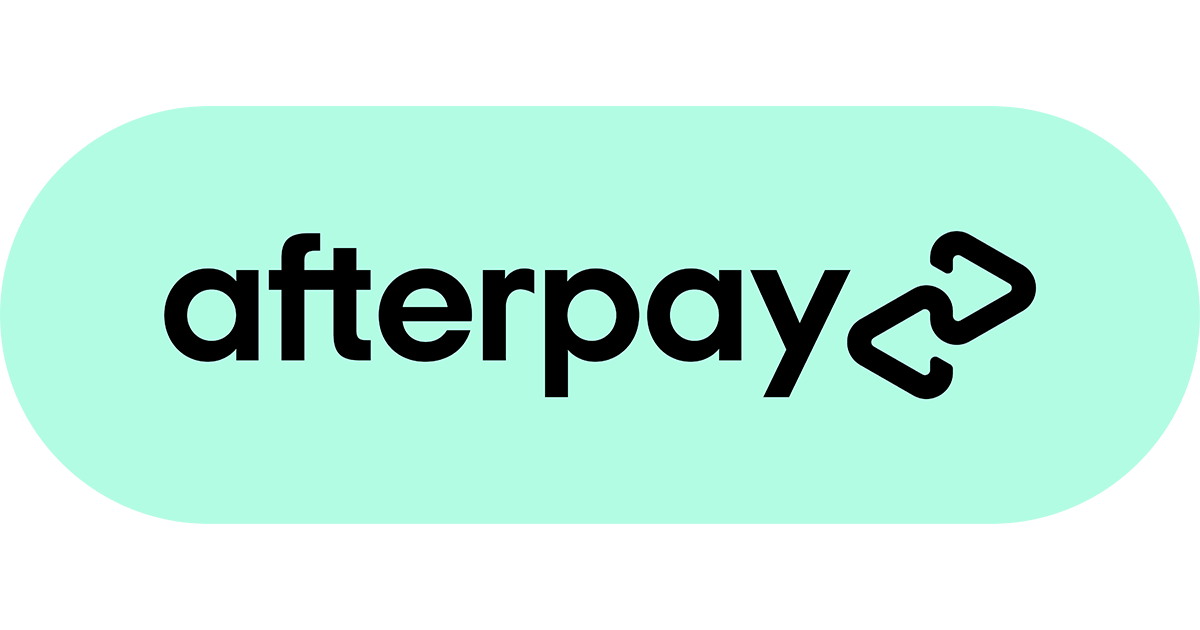 i.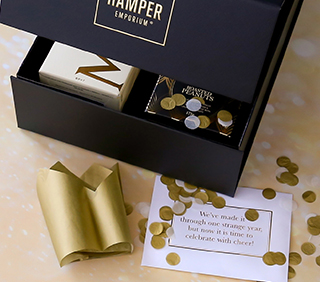 FREE Party Pack
Add a free Christmas Party Pack to your hamper to help get your Christmas party started in 2020! Our free party packs includes a party hat; cringe worthy joke and confetti. All presented to your recipient in a simple gold foil envelope.
We don't use the term 'deluxe' lightly…this gourmet Christmas hamper is a whole lot of indulgence. Featuring three bottles of exquisite wine—including the incomparable Dom Pérignon—it's made for sharing with larger groups during the holidays. They will receive a carefully curated range of gourmet nibbles from iconic producers such as Maggie Beer, The Woods Farm, Morgan's, The Figgery Kangaroo Island, and more. Who needs to choose between sweet and savoury? This hamper has both in spades, and they're guaranteed to relish every single bite. Enjoy FREE delivery Australia-wide. You can also add a free gift card to be personalised with your message at checkout.

own it now, pay later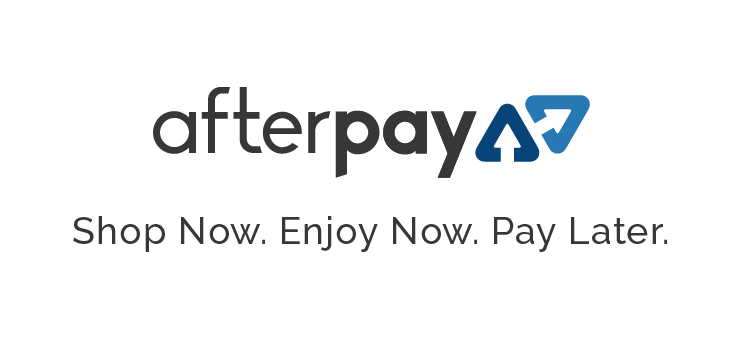 ---
Savoury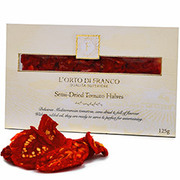 L'Orto Di Franco Semi-Dried Tomato Halves 125g
Delicious Mediterranean tomatoes, semi-dried and full of flavour. With no added oil, they are ready to serve.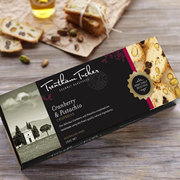 Trentham Tucker Cranberry Pistachio Crispbread 150g
A delectable combination of cranberries and pistachios, handmade into delicious crispbread.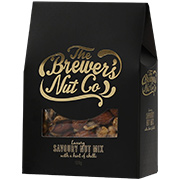 Brewer's Nut Co. Savoury Nut Mix 120g
A fresh & delicious premium nut mix with a hint of chilli, rosemary, garlic & sea salt, the perfect pair with any beverage.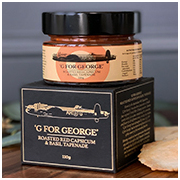 Regimental Condiment Co. Roasted Capsicum Tapenade 85g
Made from a traditional family recipe, this tapenade is packed full of vibrant flavours of roasted capsicum and basil. Made in Australia.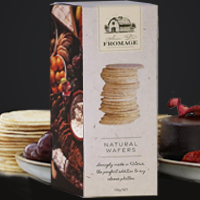 Avec du Fromage Natural Wafers 100g
These natural artisan wafers are absolutely ideal for a gorgeous grazing plate or cheese board. They're made with love in Australia.
Avec du Fromage Charcoal Wafers 100g
Elevate any grazing board or cheese plate with these delicate charcoal wafers. They're crispy and truly delightful. Made in Australia.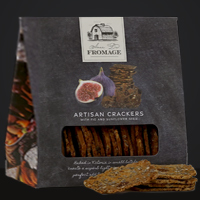 Avec du Fromage Artisan Crackers 100g
Perfect on their own or with a grazing platter full of goodies, these artisan crackers are a true pantry essential. Made in Australia.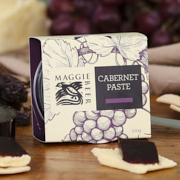 Maggie Beer Cabernet Paste 100g
This gorgeous paste goes with anything you'd usually combine with red wine. Think strong cheese and hearty flavours. Made in Australia.
Biscuits & Sweets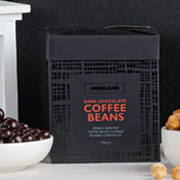 Morgan's Dark Chocolate Coffee Beans 175g
Freshly roasted coffee beans covered in smooth, rich 50% cocoa dark chocolate. Made in Sydney.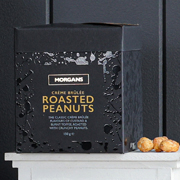 Morgan's Crème Brûlée Roasted Peanuts 175g
The classic crème brûlée flavours of custard and burnt toffee roasted with crunchy peanuts.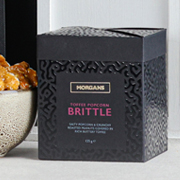 Morgan's Toffee Popcorn Brittle 135g
The ultimate treat! Indulge in salty popcorn and crunchy roasted peanuts covered in rich buttery toffee. Made with love in Australia.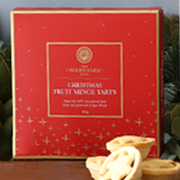 The Woods Farm Christmas Fruit Mince Tarts 320g
Eight tarts made with quality ingredients including 100% Australian all butter pastry and St Agnes Brandy.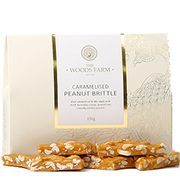 The Woods Farm Caramelised Peanut Brittle 130g
There isn't a sweet tooth out there who wouldn't be impressed with this exquisite item. Indulge in this 100% Australian-made gourmet brittle.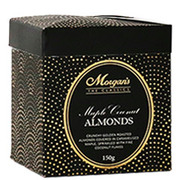 Morgan's Maple Coconut Roasted Almonds 150g
These crunchy almonds covered in caramelised maple sprinkled with fine coconut flakes will beautifully fill a serving bowl for visitors.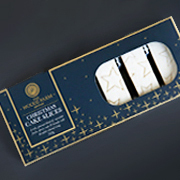 The Woods Farm Iced Christmas Cake Slices 250g
Sweet juicy fruits and delicious Christmas spices baked into perfection and topped with almond icing for the perfect festive treat.
The Woods Farm Handmade Christmas Cake 750g
Rich, succulent fruits, the perfect balance of brandy & rum flavours, beautifully hand decorated & topped with hazelnuts for a premium Xmas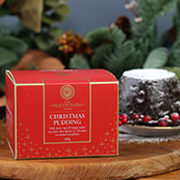 The Woods Farm Handmade Christmas Pudding 400g
Vine fruits, naturally caramelised sugars, and just the perfect amount of sherry, rum and brandy for a moist & succulent Xmas dessert.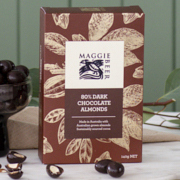 Maggie Beer 80% Dark Chocolate Almonds 140g
These delectable almond delights coated with 80% dark chocolate are an exclusive treat from Maggie Beer. Lovingly crafted in Australia.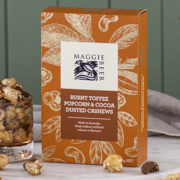 Maggie Beer Burnt Toffee Popcorn & Cocoa Dusted Cashews
Evoke the senses with this burnt toffee popcorn and cocoa dusted cashews from Maggie Beer. Made lovingly in Australia, they're oh so indulgent.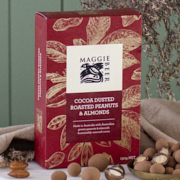 Maggie Beer Cocoa Dusted Roasted Peanuts & Almonds 150g
These delicious Maggie Beer roasted peanuts and almonds are dusted gently with cocoa for the ultimate indulgence. Lovingly made in Australia.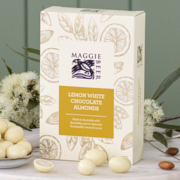 Maggie Beer Lemon White Chocolate Almonds 140g
Enjoy these exquisite almonds from Maggie Beer coated in lemon white chocolate. They're the ultimate gourmet treat. Made lovingly in Australia.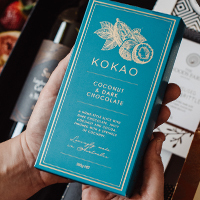 Kokao Coconut & Dark Chocolate Slice 200g
Enjoy this indulgent slice crafted in Australia from smooth dark chocolate and refreshing coconut. It's the perfect gourmet dessert.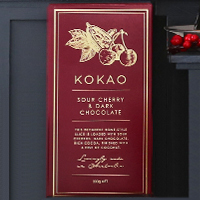 Kokao Sour Cherry & Dark Chocolate Slice 200g
Indulge in this dark chocolate slice with sinful sour cherry. It's a positively mouthwatering treat that's made lovingly in Australia.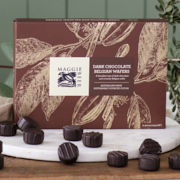 Maggie Beer Dark Chocolate Belgian Wafers 130g
Crafted with the smoothest dark Belgian chocolate, these wafers are truly delicious. They're made with the utmost care in Australia.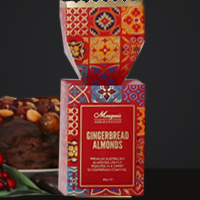 Morgan's Gingerbread Almond Bon Bon 80g
Spicy, crunchy, and deliciously sweet, this Christmas delight will have you reaching for more these holidays. Made in Australia.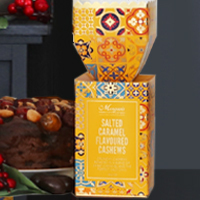 Morgan's Salted Caramel Cashew Bon Bon 80g
Sweet and salty flavours combine elegantly to create this tasty treat. Enjoy the harmony of salted caramel and cashew. Made in Australia.
Wine & Champagne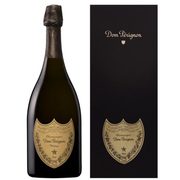 Dom Pérignon Brut Vintage 2010
A simply stunning french champagne, fine and delicate yet with complexity and depth. Enjoy the world's most famous champagne.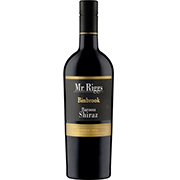 Mr Riggs Binbrook Barossa Shiraz
This full-bodied Barossa Valley wine boasts notes of blackberry, star anise and tobacco. It rewards careful cellaring over 15-20 years.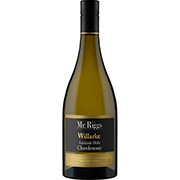 Mr Riggs Willarke Adelaide Hills Chardonnay
An Adelaide Hills drop with strong stone fruits, striking citrus and a flinty edge. It will reward careful cellaring over 10-15 years.
Pantry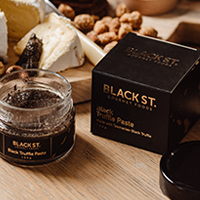 Black St. Gourmet Tasmanian Black Truffle Paste 100g
True Australian made indulgence, featuring the aromatic flavour of Tassie black truffles.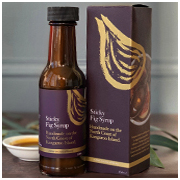 'The Figgery' Sticky Fig Syrup 150ml
Crafted on Kangaroo Island from freshly, hand-picked figs this versatile syrup is sweet and intense.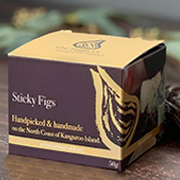 'The Figgery' Kangaroo Island Sticky Figs 50g
Produced with love & passion on Kangaroo Island, this preservative-free treat is delightfully sweet & the perfect partner for cheese.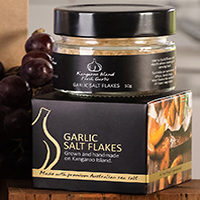 Kangaroo Island Garlic Salt Flakes 65g
Grown and hand harvested on the North Coast of Kangaroo Island, sprinkle over lamb chops, steak or veggies before cooking.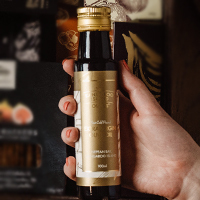 Kangaroo Island Extra Virgin Olive Oil 100ml
A first cold pressed, extra virgin oil from olives grown on Kangaroo Island using organic and regenerative farming practices.
Maggie Beer Brandy Butter Sauce 250ml
This sauce is ideal for drizzling over the Christmas pudding. It boasts toffee notes with just a hint of sea salt. Made in Australia.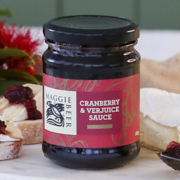 Maggie Beer Cranberry Verjuice Sauce 285g
Sumptuous and fruity, this rich cranberry sauce is a Christmas favourite made from the heart. Drizzle it generously. Made in Australia.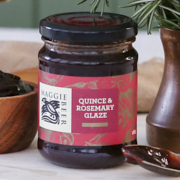 Maggie Beer Quince & Rosemary Glaze 285g
This glaze, rich with fruit and herbal flavours, is ideal for adding something extra to your next chicken or ham. Made in Australia.
Also Included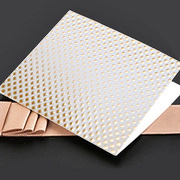 Optional FREE Premium Greeting Card
Write a message for your lucky recipient and they'll receive it in this FREE premium greeting card. Add a personal touch to their luxury gift.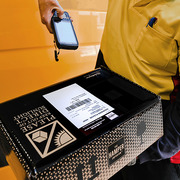 Comprehensive Track & Trace
Rest easy with a tracking ID number that helps you follow your order. Our comprehensive system gives you total peace of mind with every gift.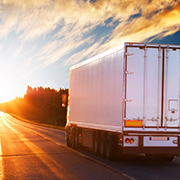 Free Australia Wide Delivery
Enjoy our completely FREE standard delivery to anywhere in Australia! Express upgrades are available for any address across the country.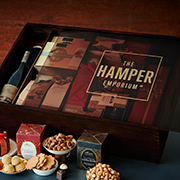 Large Handcrafted Wooden Box
True luxurious style. This beautiful wooden box with a tinted sliding lid is perfect for reuse once all the goodies inside have been enjoyed.
---
Standard Delivery with Australia Post - FREE ** DELIVERING AUSTRALIA-WIDE **
NSW, VIC, QLD metro areas
1 - 5 Business Days
TAS, SA metro areas
3 - 6 Business Days
Perth, Darwin & regional areas
5 - 12 Business Days
Express Delivery - from $17

.

99 per hamper ** DELIVERING AUSTRALIA-WIDE **
Sydney Metro Area
Same / Next Business Day
Melb, Bris, Adel, Perth, ACT, NSW cities
3 Business Days
Darwin & outside of major cities
3 Business Days
Please Note: Due to seasonal variations and exclusivity of our stock, items in hampers are occasionally substituted for products of the same or higher value and quality.
Pamper Your Recipient Like Never Before This Christmas! Choose the New Deluxe Christmas Hamper from The Hamper Emporium!
At The Hamper Emporium, customers can find countless Australian Christmas hampers that could provide their recipient with a pampering gourmet experience. To keep things interesting for our customers this holiday season, our hamper designer added some new Australian Christmas hampers to the mix; this includes our Deluxe Christmas Hamper. Curious why this hamper could provide the ultimate gourmet experience? Find out by reading the information provided by The Hamper Emporium below.
Is the Deluxe Christmas Hamper from the Australian Christmas Hampers Catalogue Suitable for Wine Lovers?
The Deluxe Christmas Hamper from our Australian Christmas hampers collection is a suitable gift for wine lovers this holiday season, because this hamper from our Australian Christmas hampers catalogue contains two exquisite wines and a bottle of champagne. For this hamper, our hamper designer has obtained two wines from Cape Mentelle, and the world's most recognised champagne.
Cape Mentelle is a brand that is used regularly in our Australian food hampers, so it is no surprise our hamper designer selected the Cape Mentelle Margaret River Shiraz and Cape Mentelle Wallcliffe Semillon Sauvignon Blanc. Both wines received high ratings from wine reviewer James Halliday, making them exquisite choices for connoisseurs and collectors.
The champagne inside this new Christmas hamper is also quite special, since it is the Dom Perignon Brut Vintage. If you are a collector yourself, you already know that the Dom Perignon Brut Vintage is one of the most exclusive and celebrated champagnes in the world. The champagne is made from a select range of grapes, which lend their outstanding flavour and aroma to this champagne. Since this is a true collector's item, it is certainly recommended for collectors and connoisseurs.
Is the Deluxe Christmas Hamper from the Australian Food Hampers Collection Suitable for Chocoholics?
Considering the incredible collection of chocolates inside the new Deluxe Christmas Hamper, it is no surprise that this new Christmas hamper is the ultimate gift for chocoholics. This new hamper contains more than just one chocolate selection, since it contains several chocolate selections from brands such as Butlers Irish Chocolates, Ernest Hillier, and Willie's Cacao.
Each of the chocolate brands featured in the Deluxe Christmas Hamper has an impeccable reputation. Ernest Hillier is one of Australia's most celebrated chocolate brands, while Butlers Irish Chocolates and Willie's Cacao are internationally recognised chocolatiers. So, the chocolate selections inside this Deluxe Christmas Hamper will appeal to a wide range of chocolate lovers in Australia and the rest of the world.
Is the Deluxe Christmas Hamper from the Australian Food Hampers Range Suitable for Gourmet Lovers?
While the extensive selection of wine and chocolates is more than enough to please the average gourmet lover, the Deluxe Christmas Hamper from our Australian food hampers collection offers much more than that! In addition to chocolates, wine, and champagne, the Deluxe Christmas Hamper from the Australian food hampers collection also contains loads of gourmet pantry items, nibbles, biscuits, sweets, and savoury treats.
Of course, the Deluxe Christmas Hamper from the best Christmas hampers catalogue contains some Christmas-themed treats to match the holiday season. Typical Christmas treats that have been included in the Deluxe Christmas Hamper are The Woods Farm Christmas Fruit Mince Tarts, The Woods Farm Pure Butter Shortbread, Byron Bay Cookies Triple Choc Fudge Cookies, Trentham Tucker Chocolate Cranberry Cake, and more. So, opening this hamper certainly ensures the start of a wonderful holiday season.
The Deluxe Christmas Hamper from our best Christmas hampers catalogue also contains gourmet treats that could be gifted throughout the year; this to ensure enough variety in this large hamper. So, in addition to Christmas-themed treats, customers can also find delicious treats such as Le Cordon Blue Paris Olive Fennel Spread, Gourmet Regional Chargrilled Capsicum Tapenade, Tasmanian Black Truffle Paste by Black St. Gourmet, and more!
Could Businesses Use the Deluxe Christmas Hamper as a Corporate Gift?
Our Deluxe Christmas Hamper from the best Christmas hampers catalogue could certainly be used as a corporate gift, because this hamper is bound to impress any important business relation. Businesses can order corporate branding for the Deluxe Christmas Hamper by contacting The Hamper Emporium but could also order their corporate branding from the website.
Corporate branding options for the Deluxe Christmas Hamper can be found on the corporate hampers section on The Hamper Emporium website. Options include gift tags and ribbons as well as other remarkable corporate branding supplements. There is no limit to the corporate branding options available at the Hamper Emporium.
Does The Hamper Emporium Provide More of Its Best Christmas Hampers for Wine Lovers, Chocoholics, and Gourmet Lovers?
Not quite sure if the Deluxe Christmas Hamper is the right choice for your recipient? Head over to our catalogue of best Christmas hampers to find more exquisite hampers suitable for wine lovers, chocoholics, and gourmet lovers.
No matter which of our Australian luxury gift hampers you choose, you can always count on a free standard delivery with your hamper. The other Australian luxury gift hampers at The Hamper Emporium also have additional delivery options, which could speed up the delivery of your chosen hamper.
The Australian luxury gift hampers at The Hamper Emporium have plenty to offer, but there are other hampers aside from our Australian luxury gift hampers you should look at. If you cannot find what you are looking for in our collection of Australian luxury gift hampers, be sure to check out our gourmet hampers and wine hampers too.
Customers can also count on the expert advice of The Hamper Emporium team, who will be more than happy to provide you with some recommendations from the Sydney gourmet hampers range. So, if you have problems deciding, be sure to get in touch with us for some advice.
Where Can I Get More Information on the Deluxe Christmas Hamper from the Sydney Gourmet Hampers Catalogue?
Since the Deluxe Christmas Hamper is one of the biggest Sydney gourmet hampers in our collection, it is not unusual for customers to have some questions about this hamper. If you want some additional information about this hamper, we kindly refer you to the product description page. Cannot find the answers in the product description? Feel free to contact The Hamper Emporium today.
Customers can contact The Hamper Emporium with questions about our hampers or to order corporate branding for their chosen hamper. To contact our team today, simply get in touch by telephone, email, or instant messaging.
Up to When Can The Hamper Emporium Deliver Sydney Gourmet Hampers This Festive Season?
The Hamper Emporium finds it important that everyone gets to have one of first class luxury and deluxe hampers this holiday season; this is one of the reasons why we encourage everyone to order their premium hampers early in time for Christmas Eve this year. To make sure you do not have to worry about a late Christmas present, The Hamper Emporium has you covered.
When ordering later than usual, please refer to the estimated delivery times before ordering. Even though we can deliver deluxe gift hampers up to Christmas Eve, the high demand for gift delivery this year will be a factor.
Please note, if the standard delivery option for our deluxe gift hampers does not provide you with a good delivery time, you can still upgrade the delivery option to Express Delivery. By doing so, you can speed up the delivery to receive your Christmas presents on time.
Thank you for subscribing!
We'll be in touch soon