Valentine's Day Hampers ♥

Valentine's Day gift hampers are the perfect way to say 'I love you' in 2020. At The Hamper Emporium, we're experts in gifts of love; always ensuring our Valentines Hampers are designed to feature an exclusive selection of pamper gifts for women and luxury gifts for men so that no matter your budget or their tastes, you'll find the perfect 'I Love You Hamper' with FREE Delivery.

The Hamper Emporium has over a decade of experience at designing Australia's best gift boxes for Valentine's Day. In fact our gifts are not just the perfect 2020 Valentine's gift idea, but they truly offer something luxurious for all occasions. From personalised leather gifts for men and women, right through to plush luxury bathrobes and some of the world's finest skincare. Say I love you this Valentine's Day with a women's pamper hamper, a Valentine's Day chocolate hamper, or even an award-winning red wine hamper.
100% Australian owned and operated, we're Australia's leaders in gourmet food hampers, whether it's a beer hamper or something special for the sweet tooth, if you're having trouble finding the perfect gift for Valentine's, our staff are always here to help you select the perfect gift from our 2020 Valentine gift basket range. Whether it's a Valentine's gift for your husband, wife, girlfriend or boyfriend, there's a Valentine's gift hamper in stock now that's guaranteed to suit their style and your budget.
---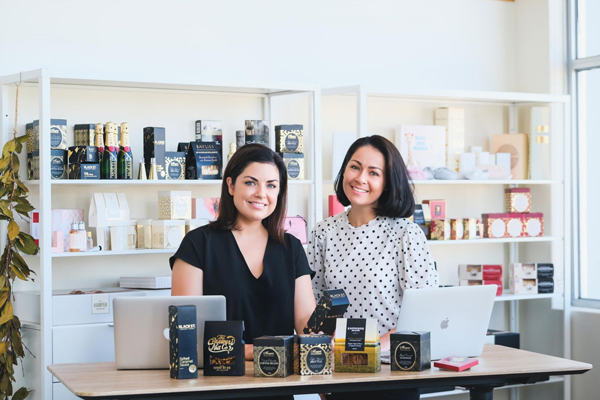 Beautiful Australian Gift Hampers From Our Family To Yours Welcome to The Hamper Emporium's new b...
Read Full Post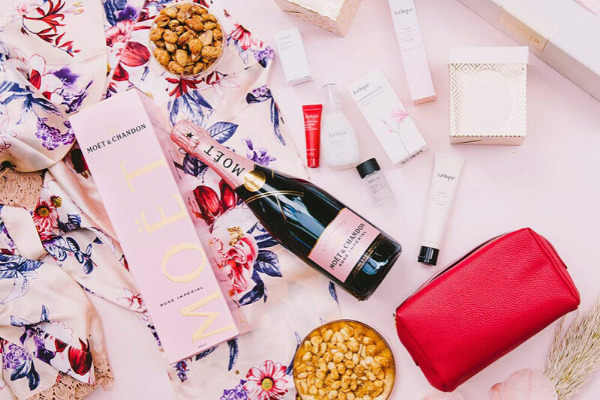 Creative Gift Ideas For Champagne Lovers - And Some Fun Facts! The sound of a champagne cork popping i...
Read Full Post
Valentine's Day hampers from Australia's most loved gift hamper company: The Hamper Emporium. The ultimate in romantic gift ideas, browse our collection to find an exclusive range of romantic gift hampers, exclusive gourmet produce, and some of the finest wine and Champagne from Australia and the world. Love is all around, and with just a few clicks, we'll help deliver love directly to their door, with FREE delivery!
You know how much you love them, but do they know? We're here to help you show them loud and clear without leaving any doubt in their mind just how loved they are. With Australia's finest selection of romantic Valentine's Day gift hampers, this is truly your best opportunity this year to shower them with love and luxury.
When Is Valentines Day 2020?
What Are Australia's Best Valentines Day Hampers For Him?
Australia's Most Romantic Valentines Hampers With Free Delivery?
What Are Some Popular Valentine's Day Hampers For Her?
What Are The Most Popular Gifts For Valentine's Day?
More Valentine's Day Gift Information?
It's one of the most fabulous dates of the year! February 14th, Valentine's Day, the day of lovers, of passion, or romantic gifts and getaways, and in 2020, Valentines falls on Friday 14th February. Why not extend this romantic holiday out and make an entire weekend of it? We think it's a fabulously romantic idea!
Perhaps he's fussy, perhaps he's not, but we know for sure he'll be impressed either way with our range of outstanding Valentine's Day hampers for men. If you need some inspiration, we'll suggest some of our favourite men's gift baskets below, which are bound to be appreciated by your recipient, and if you're lucky, he might even share some of his gourmet delights with you!
The Glenmorangie 'The Lasanta' Hamper
Our Glenmorangie 'The Lasanta' Hamper from our range of gift hampers for men is an exquisite choice, featuring a bottle of Glenmorangie 'The Lasanta' whiskey to savour. A whiskey journey of smooth spirits and a selection of gourmet delights to tempt his tastebuds, this is the perfect gift box to encourage him to kick back and enjoy some 'me time' this Valentines Day.
L'Occitane Discovery & Cape Mentelle Hamper For Men
Who says pampering and skincare is just for women! We know men love to look their best and feel amazing, which is why the L'Occitane Discovery & Cape Mentelle men's gift hamper has become one of our best sellers. Pamper him with this specially formulated luxury skincare that's been created with men in mind. This luxury French skincare brand is loved the world over and he'll feel like he's drifted into a world of spa pampering with a plush robe and L'Occitane Discovery skincare.
Here are some of our personal favourites for Valentine's Day 2020, all including Free Delivery right across Australia, so that you can deliver something special to your love. We always offer up to date Valentine's gift delivery information?, with an order tracker so that you always know where your romantic gift delivery is.
The Vintage Moët Hamper
Our Moët Grand Vintage gift box is the perfect Valentine's Day gift idea. Containing an exquisite bottle of 2009 Moët & Chandon Grand Vintage, there's a reason this Champagne is loved worldwide, and there's a reason it's worthy of sending your love this year - because it's an exquisite Champagne that will leave no doubt in their mind that Valentine's is a true celebration of your love together and your love together is worthy of the finest of gifts.
L'Occitane Skincare Gift Baskets
When it comes to finding a truly unique and romantic gift, you can't go past a pamper gift hamper. This special range of hampers includes of French skincare from world-renowned skincare brand L'Occitane, it also includes a beautiful selection of sweets and nibbles to tempt their taste buds and many contain a luxurious plush robe to help them relax and enjoy being showered with love.in style. Beautiful fragrance and the perfect nourishing skincare blend; the perfect choice for the partner who deserves to be pampered.
Our online gift store is packed with Valentine's Day hampers for her. Treating the woman you love to a gift that's truly special just got easier. As our romantic hamper range continues to grow, our partnerships with some of the world's most luxurious brands continue to strengthen, it's easier than ever for you to say I Love You in style with Australia's most luxurious range of Valentine's Hampers for 2020.
L'Occitane Pamper Hamper
Beautifully presented inside the L'Occitane Pamper Hamper, she'll find an exquisite collection of cosmetics, chocolates, and sweet nibbles. This elegant hamper also contains a variety of sweet pantry items, so whether she lives in Sydney, Melbourne, Brisbane or Perth, or any corner of the country, we can deliver this exquisite pamper hamper directly to her door with free delivery and a guaranteed smile on her face.
The Sweet Bites Hamper
Our Sweet Epicure Hamper provides female Valentine's recipients with the ultimate collection of sweet nibbles and chocolates this Valentine's Day. It includes brands such as Butlers Irish Chocolates, Ernest Hillier, the Woods Farm, and Morgan's, so plenty to enjoy for your recipient!
Don't gift her boring flowers this year, it's time to pamper her with something truly special and Australia's most luxurious gift hampers are the perfect choice.
Curious about the best Valentine's Day hampers this year? It's true that every year we create an amazing range of new gift hampers, and every year some stand out as clear best sellers! Check out our overview below to find out!
The Moet Hamper With Australian Chocolates & Nuts
Our Moet with Australian Chocolates & Nuts is always a popular choice for Valentine's Day, and it is not difficult to see why. The hamper comes with free delivery, is affordable, and includes one of the finest champagnes in the world.
As the name of the Moet with Australian Chocolates & Nuts already indicates, this hamper contains a genuine Moet & Chandon Brut Imperial Champagne. The velvety champagne is beautifully complemented with sweet nibbles from Morgan's. So, plenty to enjoy together on Valentine's Day.
The Luxury Hennessy Hamper
Another popular hamper for Valentine's Day is the Luxury Hennessy Hamper, a gift hamper that is the perfect choice for him. Inside this hamper, customers can find a genuine Hennessy cognac, which is still considered as the best cognac in the world.
Naturally, the Luxury Hennessy Hamper is packed with gourmet treats too. Inside the hamper, you can find nibbles from brands such as Baylies Epicurean Delights, but also the Brewer's Nut Company, Gourmet Regional, and Kangaroo Island.
Do you need to find more Valentine's Day hampers this year? Check out some of our new Valentine's Day hampers in the Valentine's Day collection! In this collection, you can find hampers that include goodies such as wine, Champagne, whiskey, chocolates, and countless other products the couple can enjoy for Valentine's Day. Ordering is easy, simply make your selection and the gift hamper will be added to your shopping cart waiting for you to add in the required address details and information. You'll be able to track your order for your loved one, Australia wide with our order tracker.
Have a question about one of our Valentine's Day hampers or our christmas hampers online? For more information about our hampers and the products inside? Be sure to contact The Hamper Emporium for some assistance.