Whisky Hampers

---
Whisky is a perfect combination of glowing warmth and soothing flavours. For those who just enjoy...
Read Full Post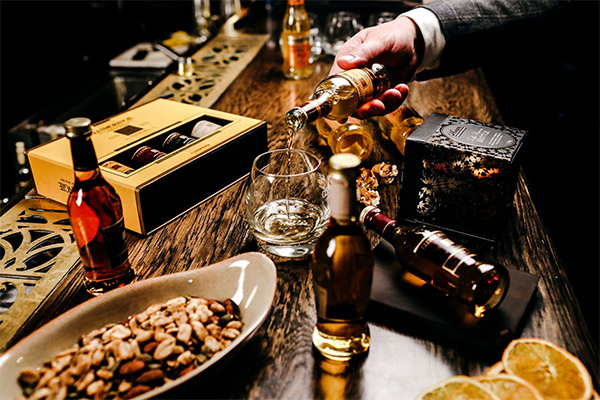 A Whiskey Drinking Guide For Beginners Do you love the fiery amber glow and full flavour of whiskey? You ar...
Read Full Post
Whisky hampers Australia
The Hamper Emporium is your source of premium whisky hampers in Australia. Our hampers feature award-winning whisky from Glenmorangie – a world-famous distillery located in Scotland. Glenmorangie whisky has been developed by Dr Bill Lumsden over the past twenty years, so it's unbelievably smooth and has exquisite flavours you won't find anywhere else.
Our whisky hampers come with free shipping and a premium card that you can customise.
Explore our range of whisky hampers.
FAQs about whisky hampers
In this section, we'll answer your top questions about whisky hampers.
What goes in a whisky hamper?
A whisky hamper typically features whisky (preferably Scottish whisky), nuts, crackers, nibbles, sweet treats, whisky glasses, and whisky accessories (whisky stones, ice moulds, merch from whisky brands, etc.). Whisky is the most important part of the hamper, so the other items in the hamper should enhance the whisky-drinking experience.
How do you store a whisky hamper?
The best place to store a gift hamper with whisky in it is a space that's dark and remains at room temperature. A closet or large drawer is a good place to store your hamper. We recommend storing whisky bottles upright (especially after they've been opened).
Who should I buy a whisky hamper for?
A whisky hamper is the perfect gift for the whisky lover in your life. Whisky is an appropriate gift for family members, friends, and coworkers who appreciate whisky.
Where can I find whisky hampers online in 2023?
The Hamper Emporium is the best place to find a whisky gift hamper or gift box in 2023. We offer a range of premium whisky hampers with Glenmorangie whisky. Unlike other hamper companies, our hampers come with free shipping Australia-wide and a premium card that you can customise.
How do I choose a good whisky hamper?
The Hamper Emporium has years of experience in helping Aussies to find the perfect hamper for their loved ones. Here are a few tips we've picked up along the way that will help you choose a good whisky hamper:
Choose a hamper from a company with an excellent reputation. There's nothing worse than ordering a hamper for a special occasion and having it never arrive.
Choose a hamper that features goodies from your gift recipient's favourite brand. They'll really appreciate your thoughtfulness.
Choose a hamper that includes whisky from the Scottish highlands.
Choose a hamper that includes nibbles that pair well with the whisky.
Choose a hamper with limited edition products.
Choose a hamper that comes with a gift card.
Choose a hamper that can be shipped Australia-wide. All of The Hamper Emporium's hampers can be shipped anywhere in Australia.
What are the most popular whisky hampers?
Our most popular whisky hamper for 2023 is the Glenmorangie Whisky Celebration Hamper. Our next most popular hampers are the Glenmorangie Whisky Tasting Hamper and the Glenmorangie Your Way Hamper.
Where can you deliver whisky hampers to?
We can deliver whisky hampers to Sydney, Melbourne, Brisbane, Perth, Adelaide, Hobart, Darwin, and many more places around Australia. We can't deliver our whisky hampers internationally, unfortunately.
What is your best whisky gift set?
Our best whisky gift set is the Glenmorangie Whisky Celebration Hamper. The star of this hamper is a bottle of Glenmorangie The Original Scotch Whisky that has been aged for ten years. It has a floral and fruity character that's simply unforgettable. This hamper also features coffee beans, popcorn brittle, dark chocolate almonds, and burnt toffee popcorn and cocoa-dusted cashews.
Is it "whiskey" or "whisky" in Australia?
Whisky is made by fermenting grains – similar to the process of fermenting beer. Whether whisky is spelled with an "e" or not depends on the type of grain used and the country the whisky is being produced in.
"Whisky" refers to whisky that's produced in Scotland, Canada, or Japan. These countries all use malted barley. "Whiskey" refers to whiskey that's produced in Ireland or the United States.
Australian English doesn't have a specific spelling for "whisky". You should use the spelling that describes the type of whisky you're referring to.
All of The Hamper Emporium's whisky comes from Scotland; hence, we sell "whisky hampers", not "whiskey hampers".
What makes Glenmorangie Whisky Hampers special?
Glenmorangie was founded by William Matherson in 1843 in the Scottish Highlands. Since then, the brand has gained international recognition for distilling some of the smoothest and finest whisky around.
Glenmorangie whisky is special because it uses very tall stills. These stills have an extraordinary lantern shape with a long neck, giving the whisky a lighter taste. Glenmorangie also draws water from Josie's well and other springs located nearby. These springs are believed to give the whisky a smooth and unique taste.
One of the other major differences between Glenmorangie and other whisky distilleries is the fact that Glenmorangie doesn't use peat during the barley drying process. By leaving out peat, Glenmorangie is able to maintain the natural flavour and aroma of the barley.
Glenmorangie whisky gift sets are the perfect gift for whisky lovers and novices alike.
Treat your loved ones to our whisky hampers
The Hamper Emporium's whisky gift hampers are an elegant and classy gift that your giftee is sure to appreciate. Featuring whisky from world-renowned distillery Glenmorangie, our hampers are sure to impress your gift recipient.
Our hampers come with free shipping and a premium card. Browse our range of whisky hampers today.