Whisky Hampers
---
Whisky is a perfect combination of glowing warmth and soothing flavours. For those who just enjoy...
Read Full Post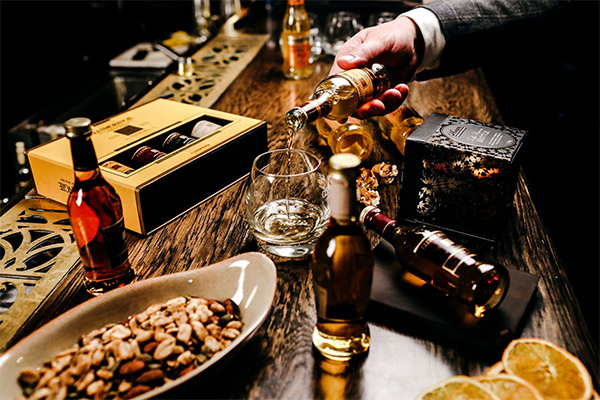 A Whiskey Drinking Guide For Beginners Do you love the fiery amber glow and full flavour of whiskey? You ar...
Read Full Post
Whisky Hampers
A whisky hamper containing this award-winning single malt Scotch Whisky is the ideal way to say a big thank you or happy birthday to any whisky lover. Glenmorangie is famous for the smooth, warm nature, rich sweetness and fruity undertones of each of their premium whiskies. Your special someone is bound to appreciate a quality and luxury spirits hamper with flavoursome gourmet food additions. Each of our gourmet whiskey hampers includes a selection of complementary snacks. Savoury nuts, premium crackers, tapenades and quince paste are just some of the delights in store, along with a collection of sweet candied nuts and rich biscuits for the sweet tooth.
Premium Whiskey Gifts Australia
Whiskey hampers are an elegant and stylish gift basket for the most discerning spirit connoisseur. If you are looking for gift inspiration for men, or for an alcohol gift box with a difference, a whiskey hamper will deliver the elegance and luxury he deserves. Each of our Glenmorangie whisky hampers has been created to deliver the perfect drinking experience making them a wonderful surprise gift for a special occasion. Our whiskey hampers are especially popular for Father's Day gifts and as birthday alcohol gift deliveries. Raise a glass and say 'cheers' with these whisky gift hampers that are best enjoyed with friends and family.
Choose a tasting gift pack with a selection of different whiskies for a unique gift. A Glenmorangie whisky cocktail hamper or one of our gorgeous gourmet whiskey tasting hampers is a great way to experience this premium spirit for someone new to drinking whiskey. They'll enjoy the choice of neat, over ice or ginger spice Glenmorangie single malt Scotch whisky plus fun whiskey cocktail recipes to try with a stunning alcohol and gourmet food gift box. If you're choosing a whiskey gift hamper for a dedicated whiskey connoisseur we have a range of full size whisky bottles with delicious snacks to share.
Is It Whiskey or Whisky In Australia?
In Australia, the spelling of "whisky" and "whiskey" are both correct. Whiskey is specific to the Irish drink, and Whisky to Scotland. The meaning of whiskey is "water of life" coming from the Scottish Gaelic uisge beatha. Few liquors have such a fervent and adoring following as Glenmorangie scotch whisky. Founded by William Matheson in 1843 in the Scottish Highlands, Glenmorangie has a history of dedication to quality and the perfection of its award-winning single malt whisky. The journey of each bottle begins in Scotland's tallest stills, maturing in the finest casks, and finally being perfected by the select craftsman – The Men of Tain – the guardians of this renowned spirit. The Glenmorangie story is one of success at producing a whisky that's loved and appreciated the world over for its pure, smooth finish.
Enjoy Whisky Cocktail Hampers
Our Glenmorangie Your Way Hamper is the ultimate whisky cocktail gift hamper that somehow manages to perfectly suit a hot summer day and sipping by the fire. Enjoy a trio of whisky flavours paired with two stylish Glenmorangie-branded whiskey glasses, high quality ginger ale and hand-picked gourmet nibbles. This is a sophisticated whisky cocktail hamper for him that includes recipes for a selection of the best whiskey cocktail ideas. Share this with your partner, or send as a hamper for dad to enjoy a whiskey his favourite way with a great selection of yummy treats. Order online and send your whiskey gift hampers Australia wide with free delivery.
What Makes Glenmorangie Whisky Hampers Special?
There are some aspects of the whisky production process that make Glenmorangie unique compared to other whiskey brands. The 'giraffe' stills used by the Glenmorangie distillery are unique with an extraordinary lantern shape with a long neck. This unusual shape enables the distillers to create a lighter tasting whisky. During whisky production, the distillery draws water from Josie's well and other springs that are located near the distillery. It is believed the water used for their whisky has a unique flavour that makes Glenmorangie smoother than other whiskies. The stills and aging casks at Glenmorangie has enabled the distillery to deliver whiskies that range between the age of 10 years and 25 years. There are also a number of limited edition whiskies, such as the cellar collection, which are quite popular with whisky collectors.
One of the major differences between Glenmorangie and other whiskey distilleries is the fact that Glenmorangie does not use peat during the drying process of barley. By leaving out peat, Glenmorangie is able to maintain the natural flavour and aroma of the barley for the best whisky.
We know you want your whiskey gift basket to make the best impression. We've selected the perfect gourmet foods to pair with each bottle of premium whisky for a complete experience. Browse our full range of whiskey hampers to choose the sweet and savoury combination your gift recipient will prefer. We have whiskey gifts with Australian gourmet foods that come with Kangaroo Island Produce olives and artisan crackers, tapenade, semi-dried tomatoes, savoury nut mixes, popcorn toffee brittle, crème brûlée roasted peanuts, choc fudge cookies, sticky figs, and a whole world of other fine foods just perfect to share with a glass of whiskey. While the Glenmorangie whisky price varies depending on the age of the whisky, we've created a range of affordable whisky hampers suitable for all budgets and all occasions.
The Glenmorangie Whisky Tasting Range For Premium Whisky Gifts
Glenmorangie Original - The original Glenmorangie 10 year old whisky is world renowned for its mellow tones and delicacy of flavour. Aged for 10 years in bourbon casks, this is a smooth whisky with a rush of citrus with honey, creamy vanilla and rich peach.
Glenmorangie Nectar D'Or - This dessert whisky has been aged in traditional American oak bourbon casks and finished in casks that once held Sauternes sweet white wine. This combination creates a sweet and sumptuous whisky with warm gingerbread flavours that give way to nutmeg and toasted almonds, and French pastries entwined with meringue and honeycomb. This whisky pairs perfectly with the sweet selections in our gourmet whiskey gift baskets.
Glenmorangie Lasanta - This is a mouthwatering single malt whisky bursting with rich spiciness and sundrenched sweetness. This aged whiskey is matured in bourbon and sherry casks for 12 years to give a smooth flavour of raisins, honeycomb, butterscotch, cinnamon, and chocolate. An absolute favourite, this 12 year old scotch whisky is best enjoyed non-chilled to bring out the depth of flavours.
Glenmorangie Quinta Ruban - This is a luscious 14 year old highland Scotch whisky that needs to be experienced. This fine whisky begins soft and fruity. As it is aged for 14 years in bourbon casks and port casks from Portugal, it gets darker and deeper to take on rich flavour combinations of dark chocolate bar and peppermint, walnut and black pepper, and luscious mandarin orange and melted marshmallow. A decadent whisky gift for a true whisky lover.