The Emporium Hamper
Exquisite Luxury For The Finest Of Celebrations
In stock | Ships now
$849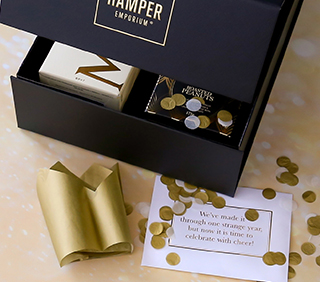 FREE Party Pack
Add a free Christmas Party Pack to your hamper to help get your Christmas party started in 2020! Our free party packs includes a party hat; cringe worthy joke and confetti. All presented to your recipient in a simple gold foil envelope.
Great for sharing with family and friends at home or for a group of co-workers celebrating the season at the office. This exceptional hamper consists of only the finest nibbles, chocolates, gourmet treats and wine. Featuring a custom handcrafted wooden hamper box packed full of treats both sweet and savoury and includes FREE Australia-wide Delivery.

own it now, pay later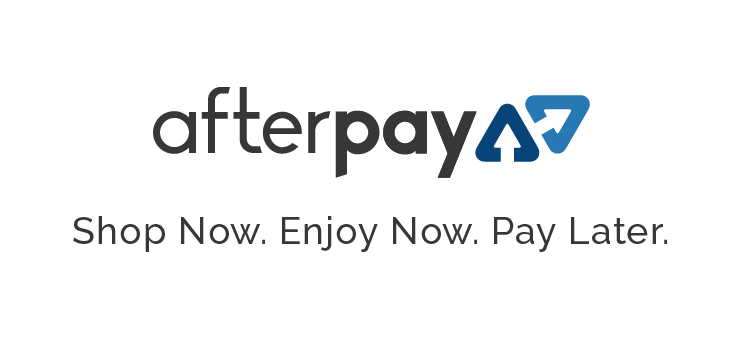 ---
Savoury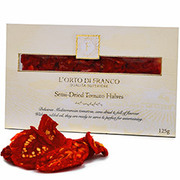 L'Orto Di Franco Semi-Dried Tomato Halves 125g
Delicious Mediterranean tomatoes, semi-dried and full of flavour. With no added oil, they are ready to serve.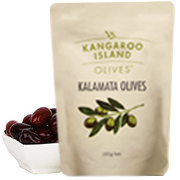 Kangaroo Island Olives Kalamata Olives 185g
Pair with wine, an antipasto platter or cheese. Organically grown on Kanagroo Island, one of the world's most pristine environments.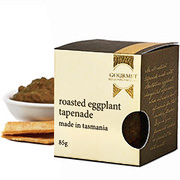 Gourmet Regional Produce Roasted Eggplant Tapenade 85g
An all natural tapenade made with Australian eggplant, chargrilled capsicums, olive oil & a hint of cumin for that smokey flavour.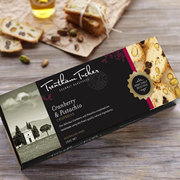 Trentham Tucker Cranberry Pistachio Crispbread 150g
A delectable combination of cranberries and pistachios, handmade into delicious crispbread.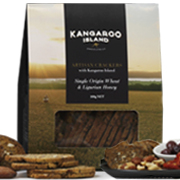 Kangaroo Island Produce Co Artisan Crackers 100g
Artisan Crackers made with Kangaroo Island single origin flour, a premium quality grain that is safe & traceable.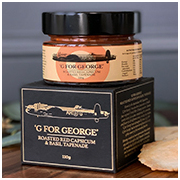 Regimental Condiment Co Roasted Capsicum Tapenade 85g
Made from fresh ingredients from a traditional family recipe, this tapenade is packed full of vibrant flavours of roasted capsicum & basil.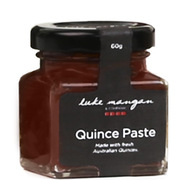 Luke Mangan Quince Paste 80g
A sensational Australian quince fruit paste made in Tasmania with the freshest ingredients. A delicious addition to cheese platters.
Biscuits & Sweets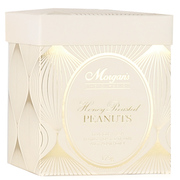 Morgan's Honey Roasted Peanuts 175g
From 'The Classics' range, these delicious, crunchy peanuts are roasted in 100% Australian Honey.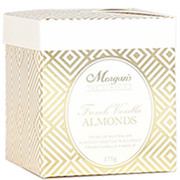 Morgan's French Vanilla Almonds 175g
Premium, crunchy Australian almonds roasted in a classic French Vanilla flavour. Made in Sydney.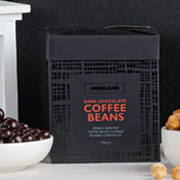 Morgan's Dark Chocolate Coffee Beans 175g
Freshly roasted coffee beans covered in smooth, rich 50% cocoa dark chocolate. Made in Sydney.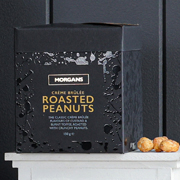 Morgan's Crème Brûlée Roasted Peanuts 175g
The classic crème brûlée flavours of custard and burnt toffee roasted with crunchy peanuts.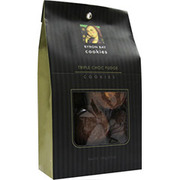 Byron Bay Cookie Triple Choc Fudge Bag 150g
Byron Bay Cookie Company's signature cookie, with rich flavour & dense texture, the ultimate treat.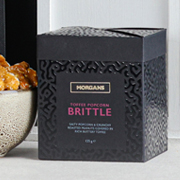 Morgan's Toffee Popcorn Brittle 135g
Salty popcorn and crunchy roasted peanuts covered in rich buttery toffee. Made in Australia.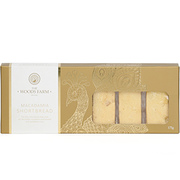 The Woods Farm Macadamia Pure Butter Shortbread 175g
Made with all Australian ingredients and crunchy macadamias this shortbread is a classic treat for all.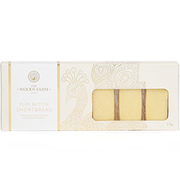 The Woods Farm Pure Butter Shortbread 175g
Rich and crumbly shortbread made with 100% Australian ingredients and using the finest creamy butter.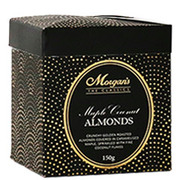 Morgan's Maple Coconut Roasted Almonds 150g
These crunchy almonds covered in caramelised maple, sprinkled with fine coconut flakes will beautifully fill a serving bowl for visitors.
Kangaroo Island Produce Co. Honey Popcorn 80g
Featuring natural Kangaroo Island Pure Ligurian Honey for a crisp, sweet snack to delight the tastebuds.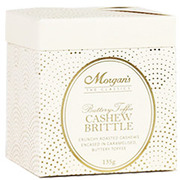 Morgan's Cashew Toffee Brittle 135g
Crunchy roasted cashews encased in rich and buttery caramelised toffee. Made in Australia.
Wine & Champagne
Cape Mentelle Margaret River Shiraz 2017 750ml
Meticulously picked & processed using techniques of Northern Rhône Valley in France. A bold red with 10+ year cellaring potential.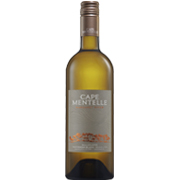 Cape Mentelle 'Walcliffe' Semillon Sauvignon Blanc 2
750ml. 96 pts. A power of flavour. This is an emphatic release. As sophisticated as it is, simply, delicious - James Halliday.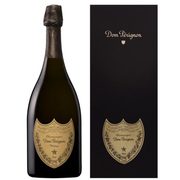 Dom Pérignon Brut Vintage 2010
A simply stunning french champagne, fine and delicate yet with complexity and depth. Enjoy the world's most famous champagne.
Chocolate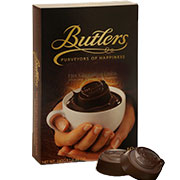 Butlers Chocolates Milk Hot Chocolate 230g
Crafted in Ireland to create the ultimate in rich, creamy hot chocolate. The perfect comfort drink to share.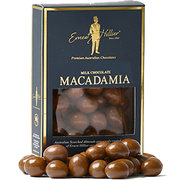 Ernest Hillier Milk Chocolate Macadamias 240g
Australian macadamia nuts generously coated in layers of Ernest Hillier cream Milk Chocolate.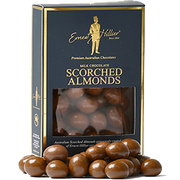 Ernest Hillier Milk Chocolate Scorched Almonds 240g
Australian Scorched Almonds coated in Ernest Hillier milk chocolate with over 100 years in chocolate passion.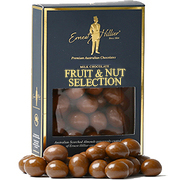 Ernest Hillier Chocolate Fruit & Nut Selection 240g
One of Australia's favoutite chocolate brands, Ernest Hillier chocolate create Australia's favourite choc treats.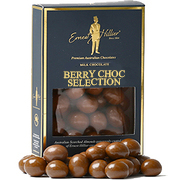 Ernest Hillier Berry Chocs Selection 240g
Australian owned and made to ensure the finest in flavours and quality from the team at Ernest Hillier.
Butlers Gold Box Chocolate Assortment 100g
Irresistible chocolate joy beautifully presented in a golden gift box because first impressions always count.
Willie's San Agustin Gold 50g
Step into the dark columbian jungle with 88% cocoa with notes of cherry & damson.
Pantry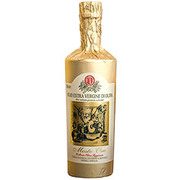 Calvi 'Mosto Oro' Extra Virgin Olive Oil 250ml
Wrapped in gold foil to protect it from light this Extra Virgin Oil is delicate with a mild almond flavour. Will enhance the most refined dish.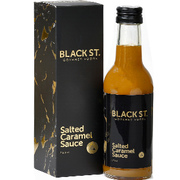 Black St. Gourmet Salted Caramel Sauce 200ml
2016 Aussie Food Awards Gold Medal Winner, this dessert sauce is so moreish it will be hard not to finish the bottle.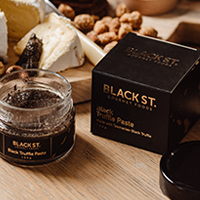 Black St. Gourmet Tasmanian Black Truffle Paste 100g
True Australian made indulgence, featuring the aromatic flavour of Tassie black truffles.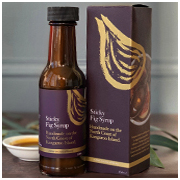 'The Figgery' Sticky Fig Syrup 150ml
Crafted on Kangaroo Island from freshly, hand-picked figs this versatile syrup is sweet and intense.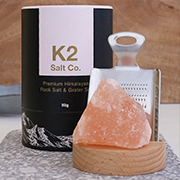 K2 Salt Co. Himalayan Rock Salt & Grater Set
Presented on an oak stand this Himalayan Salt and Grater Set add luxury and flavour to your dining table.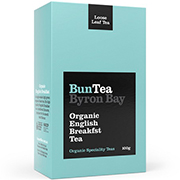 Bun Tea Byron Bay Organic Breakfast Tea Loose Leaf 100g
A gorgeous single estate high grown organic black tea crafted in Byron Bay. Australian Certified Organic with a smooth, bold flavour.
Also Included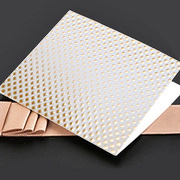 Optional FREE Premium Greeting Card
Write a message for your lucky recipient and they'll receive it in this FREE premium greeting card. Add a personal touch to their luxury gift.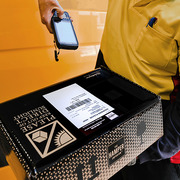 Comprehensive Track & Trace
Rest easy with a tracking ID number that helps you follow your order. Our comprehensive system gives you total peace of mind with every gift.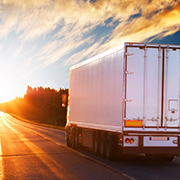 Free Australia Wide Delivery
Enjoy our completely FREE standard delivery to anywhere in Australia! Express upgrades are available for any address across the country.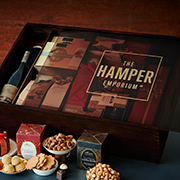 Large Handcrafted Wooden Box
True luxurious style. This beautiful wooden box with a tinted sliding lid is perfect for reuse once all the goodies inside have been enjoyed.
---
Standard Delivery with Australia Post - FREE ** DELIVERING AUSTRALIA-WIDE **
NSW, VIC, QLD metro areas
1 - 5 Business Days
TAS, SA metro areas
3 - 6 Business Days
Perth, Darwin & regional areas
5 - 12 Business Days
Express Delivery - from $16.95 per hamper ** DELIVERING AUSTRALIA-WIDE **
Sydney Metro Area
Same / Next Business Day
Melb, Bris, Adel, Perth, ACT, NSW cities
1 - 3 Business Days
Darwin & outside of major cities
3 - 5 Business Days
WE ARE STILL DELIVERING AUSTRALIA-WIDE.
Visit our
Delivery Calculator
for estimated timeframes to your delivery postcode.
We continue to send orders on the same day if received before 1pm AEST (10am AEST for Sydney same day), however Australia Post and Star Track are experiencing some COVID-related delays.
Due to the unpredictability of these delays we are currently unable to offer Preferred Date Delivery, and some Standard and Express deliveries are arriving well outside of estimated timeframes. Please keep this in mind when placing your order.

Due to seasonal variations and exclusivity of our stock, items in hampers are occasionally substituted for products of the same or higher value and quality.
Ready to Discover the Biggest Wine Hamper at the Hamper Emporium? Learn More About the Emporium Hamper Today!
The Hamper Emporium is known to provide some of Australia's finest wine hampers. Our wine hampers often contain award-winning wines from the best wineries in the country, which makes these wine hampers suitable for special occasions throughout the year. Of course, there is always one hamper that stands out from all other wine hampers. At Gifts Australia, this is the Emporium Hamper.
Want to learn more about the Emporium Hamper and why it is the ultimate wine hamper at the Hamper Emporium? Be sure to read the information below to find out!
Which Wines Were Selected for the Emporium Hamper?
To make the Emporium Hamper stand out from other wine hampers in our collection, we needed a truly remarkable selection of wines, considering our other wine hampers contain some of the finest wines in the country. Fortunately, our hamper designer selected outstanding wines that eventually led to the creation of this unique hamper.
Inside the Emporium Hamper, customers can find two releases from the Australian Cape Mentelle Winery, more specifically the Cape Mentelle Margaret River Shiraz and Cape Mentelle Wallcliffe Semillon Sauvignon Blanc. Both wines have received awards at numerous wine shows across the country, which certainly makes them a good choice for wine lovers and connoisseurs.
The Emporium Hamper also contains a Dom Perignon Brut Vintage, one of the most remarkable French champagnes. The Dom Perignon Brut Vintage is often referred to as the best-known champagne in the world, but also the most celebrated.
Dom Perignon Brut Vintage has an aroma dominated by fresh violets and white peaches. The aroma is followed by a palate of soft and delicate flavours, but also a fine bubble that makes this champagne extremely desirable. In short, a champagne with a complexity that will speak to many connoisseurs and collectors.
Why Did the Hamper Emporium Select Chocolates to Accompany the Wines Inside the Emporium Hamper?
Wine connoisseurs and collectors already know that wine and chocolate go well together. Of course, there are certain types of wine that go better with chocolates than others. Naturally, the exquisite wines in this Emporium Hamper go extremely well with the chocolates we have selected for our Emporium Hamper.
Considering the large selection of chocolates inside the Emporium Hamper, this hamper could certainly be a choice for chocoholics too. In our Emporium Hamper, customers can find the finest chocolate selections from brands such as Willie's Cacao, Butlers Irish Chocolates, and Ernest Hillier.
The chocolate selections inside the Emporium Hamper are incredibly diverse, offering everything from white chocolate to milk chocolate and dark chocolate. There are also some chocolate assortments containing handmade confections, which means recipients can enjoy a truly decadent gourmet experience with our Emporium Hamper.
What Nibbles and Treats Were Selected for the Emporium Hamper?
Of course, chocolate is not the only gourmet product that goes well with a fine selection of wines. There are numerous biscuits, sweets, savoury nibbles, and even pantry products you might want to consider with a fine glass of wine. Fortunately, the Hamper Emporium has done the hard work for you, because our hamper designer has selected the best nibbles to match the wines inside already.
One of the remarkable gourmet products you certainly must try in combination with the champagne inside the Emporium Hamper is Le Cordon Blue Paris Olive Fennel Spread. The spread is commonly used on cheese, which is good news for anyone who likes to enjoy a cheese selection with a glass of wine or champagne. However, this spread also goes well on some sourdough.
The Emporium Hamper also contains Gourmet Regional Tapenades, which go great with cheeses or crackers. While you can enjoy cheese and crackers on their own with a nice glass of wine, adding some of these tapenades to the mix makes everything so much better.
Of course, there is a small portion of wine lovers that do not like fancy gourmet treats with their wine, and prefer something a little easier during their wine-drinking experience. For these recipients, our hamper designer selected popular treats such as shortbread, cookies, and even fudge. So, your recipient can simply pick their favourite treat and pour a glass of fine wine.
Can I Use the Emporium Hamper as a Corporate Gift Basket?
The Emporium Hamper is undoubtedly a good corporate gift, considering the sheer number of products this hamper contains. The wines and champagne can easily be shared amongst colleagues, and the same applies to all the snacks and chocolates the Emporium Hamper contains.
Businesses can easily order corporate branding for the Emporium Hamper, more specifically by using our online form or by contacting the Hamper Emporium. There are numerous corporate branding options available, including custom ribbons and gift tags.
In addition to using the Emporium Hamper as a corporate gift, there are countless other corporate gifts options at the Hamper Emporium. Businesses can choose one of our other gift hampers as a corporate gift, but also one of the many experience vouchers and gift vouchers available at the Hamper Emporium.
Please note that there are special deals available at the Hamper Emporium for businesses ordering many corporate hampers, or businesses ordering their corporate hampers ahead of the holiday period. To discover more about the special deals available to businesses, simply head over to the "corporate hampers" section on the Hamper Emporium website.
Where Can I Get More Information About the Emporium Hamper at the Hamper Emporium?
Since our Emporium Hamper has one of the largest selections of products, it is not uncommon for customers to have additional questions after reading our product description. If you find yourself with additional questions about our Emporium Hamper, do not hesitate to contact our team for more information.
Customers can also contact the Hamper Emporium for gift basket recommendations; for example, when you do not know what to buy for your recipient. Simply get in touch by telephone or email, and we will do the rest.
Thank you for subscribing!
We'll be in touch soon