2010 Brown Brothers Cellar Release Shiraz 750ml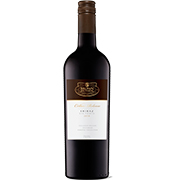 Filled with flavour of spice and tar, this Shiraz embodies a combination of French and American influences. With elements of French and American techniques, this spicy, tarry Shiraz is exotically lustrous. Exclusive to The Hamper Emporium, perfect for even the most special of occasions.
An exceptional Victorian Shiraz exclusive to The Hamper Emporium saved for only our finest hampers. Nothing speaks greatness with this exclusive bottle of Victorian Shiraz only valuable at The Hamper Emporium. Choosing only the best Shiraz is a must, and when it comes to the best in the winery business the 2010 Brown Brothers Cellar Release Shiraz in 750ml bottle is the best among the vintage ones. This wine is filled with unique flavours such as blackberry fruits and other flavours of tar and even spice. To some Brown Brothers enthusiasts, this Shiraz is a mixture of American oak as well as French oak which in the end provides you an intense punch. This wine originated from the region of Victoria with its appealing colour of dark purple hues closely similar to an ink shade. Its aroma is quite distinct with its oozing spice along with some black berry scent. This is why gift hampers are usually featuring the 2010 Brown Brothers Cellar Release Shiraz. It makes you crave for more.
What Is The Perfect Christmas Gift Hamper with a Tasty Shiraz In It?
If you want the most unforgettable Christmas hamper with a tasty Shiraz in it, The Best of all Christmas Gift Hamper is your perfect choice. This hamper comes with a sound price and with free delivery service. It includes the 2010 Brown Brothers Cellar Release Shiraz so you could pair it with other products included in the basket. This Christmas, you can give this away and let your recipient enjoy the perfect combination of the Shiraz and some sweets and biscuits from world class biscuit company the Maison Fossier, and one of the finest brands in the world when it comes to handmade cakes is the Baylies and lastly the Belgian Butters.
In addition, there are chocolate treats too that you or your recipient can munch all day and night while having the best conversation over dinner at the same time drinking the Shiraz of Brown Brothers. This is why gift hampers for Christmas should be well thought of and The Best of all Christmas Gift Hamper is the right choice.
What Can You Expect from the Chocolates & Red Hamper?
One of the most in demand gift hampers with the 2010 Brown Brothers Cellar Release Shiraz is the Chocolates & Red Hamper. It comes with ample amount of goodies and wine in just a low price. The Shiraz is paired with Maison Fossier pastry particularly the Feuilletes Chocolate Chip Puff which is also good if paired with a tea. If you are into chocolates and wine, then this hamper is highly recommended as it comes with Willie's Cacao Chocolate Hazelnut and Raisin, some Butler's products like the Handmade Chocolate Collection and the Red Floral Ballotin Chocolate Collection. Lastly, it also presents you with Fardoulis Chocolate Plato that is perfect for varying occasions like Christmas or even Valentine's Day. So if you are hesitant to purchase gift hampers with chocolates and wine in it, don't be for you'll be surprised on how yummy these products are once paired together in a given party or occasion.
Are There More Gift Hampers Offering The 2010 Brown Brothers Cellar Release Shiraz?
If you check out The Hamper Emporium, you will see that there's one more gift hamper featuring the Cellar Release Shiraz of Brown Brothers namely The Best of All Gourmet Hampers. This hamper is commendable for mothers searching for the best products to use in the kitchen. This one presents you with savoury items ranging from Le Cordon Bleu, Comtesse du Barry, Baylies, Valley Seed and Rick Stein's products. Of course, the 2010 Shiraz is also included for it can also be very useful for cooking purposes.
The Best of All Gourmet Hampers also includes pantry products which are great flavour enhancers for whatever menu or dish you will be preparing. It offers the Extra Virgin Olive Oil Riserva and the yummy salsa which you can match with almost any dish, the Tartufi Morra Salsa Tartufata. So what are you waiting for? Purchase gift hampers from The Hamper Emporium now and enjoy the perfect blend of 2010 Cellar Release Shiraz of Brown Brothers and some of the delicious and very useful products included in each basket. The Hamper Emporium exclusive Shiraz. Because every special occasion deserves the most premium of gifts.