Brown Brothers Pinot Noir Chardonnay Pinot Meunier 750ml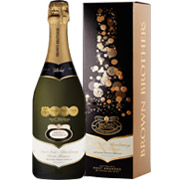 A sparkling wine that is rich in flavour. Bready and yeasty tones give a wholesome flavour at every sip. A wholesome flavour of yeast and bread elements create a sparkling wine classically rich in flavour. Sparkling wine that uses handpicked grapes leaves a luscious and rich flavour that lingers perfectly.
Using a Champagne method of production and handpicked grapes, it's no wonder this is Australia's most awarded sparkling wine.
This sparkling wine is award winning with its hand picked grapes that help create a classic, rich wine flavour.
Flavour that's rich and classic, thanks to carefully selected hand picked grapes. Sparkling wine at its best.