Glenmorangie Quinta Ruban Single Malt Scotch Whisky 700ml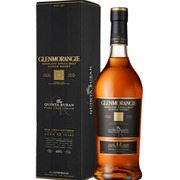 Elegant, non-filtered and mature, a solid backing to a chocolatey and minty complex Scotch Whisky. Chocolate and mint showcase an opulent, mature and unfiltered complex scotch. An award winning whisky created by Master Distiller hold a rich intense flavour for those who dare great.
The darkest & most intense whisky in the extra-matured range, multi-award winning & crafted by Master Distiller 2016 & 2017.
Deep, dark, strong and intensely mesmerising. This is what award winning whisky tastes like.
A creatively intoxicating realm of flavour comes to life in this ward winning whisky.
---