About Us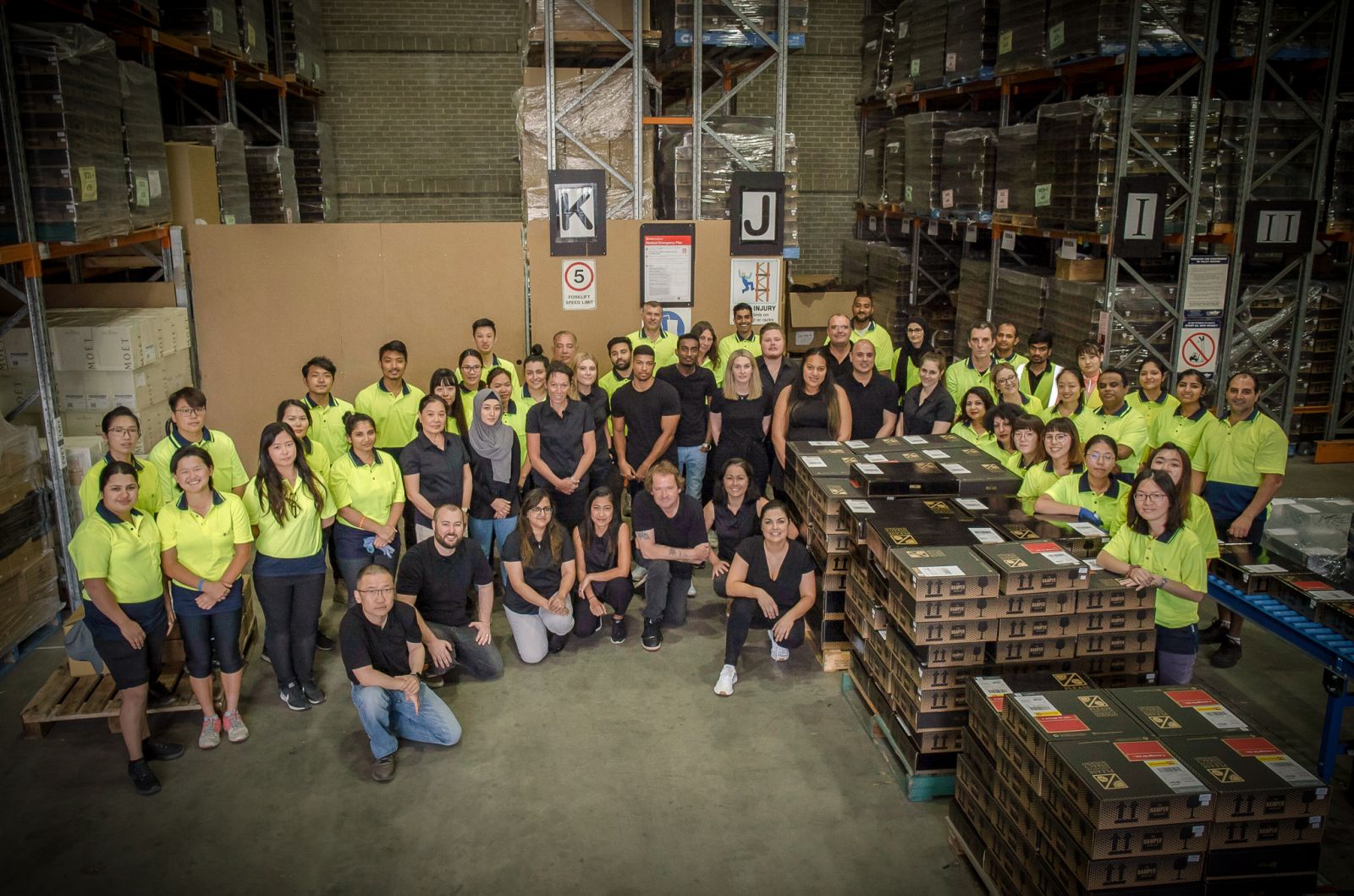 Founded in 2007, The Hamper Emporium is part of Australian owned, Sydney based, SOL Group Australia. This is our amazing team, who love nothing more than bringing smiles to the faces of our customers. As Australia's market leaders in gift hampers, our exclusive range is packed full of gourmet delights from Australia's finest artisan producers, the world's finest brands and always beautifully presented in our luxury packaging.

We are in the business of joy! At The Hamper Emporium we are committed to providing the finest products at an affordable price, because we understand the importance of showing family, friends and clients how much you care. Nothing makes us happier than surprising your recipients with exceptional products and presentation. That's why everyone from Australia's biggest corporations to individual customers trusts our team to deliver beautiful hampers for their most special occasions.
Thanks to our partnerships with world-class brands, gourmet food producers, and some of the world's finest wine suppliers and liquor producers, we offer premium quality at an exceptional value. We've spent over a decade developing partnerships with the world's finest brands so we can always ensure our customers receive the world's finest gift hampers. Explore our wide selection today and you'll find out how we make every recipient feel special. If you can't find what you're looking for, simply give us a call or fill out our online form at Contact Us. Customising the perfect package for you is our pleasure. We want nothing more than to make you and your gift recipient smile.
Sending a gourmet gift hamper, Christmas hamper or corporate gift hamper online is the perfect hamper for every occasion. If you're a business; we offer complete branding and customisation services, so that our business can help your business shine.
Meet The Team
After founding The Hamper Emporium in 2007; hard work and dedication as well as a knack for recognising market potential saw Emily McWaters grow The Hamper Emporium, launching the website in 2010.
Emily is a passionate, business savvy entrepreneur whose hands-on work ethic is at the forefront of her e-commerce success; acquiring Gifts Australia in 2010 and Everything But Flowers in 2014 to create SOL Group Australia.
With a talented team by her side, Emily is passionate about continued growth, and her expertise in supplier relations, photography and product design, along with her strong vision ensures an exciting future for SOL Group Australia.
Is Emily a pre-planner or last minute gift shopper? A pre-planner to the max. I start buying Christmas presents in September, sometimes earlier. A lot of the products on our sites are chosen based on suitable presents for my own family. I know that we have a well-rounded selection of gifts if I can find a present that covers every person in my whole family, (this includes in-laws, uncles, aunties, cousins, the lot!)
Emily's top tip for gift giving? Take advantage of shopping online so you aren't limited by time restrictions and local stores. Local stores are wonderful but the Internet offers never ending variety to help find the perfect gift.

Chief Operating Officer - Amy McWaters
Amy is a natural-born leader; being the eldest sister of Emily and Libby; she knows how to lead a brilliant team. Her worldwide experience managing luxury hotel openings and training has provided skills that see Amy excel as The SOL Group's COO and her career change to e-commerce has already produced exciting results for the company. Focused on future company growth and Amy's vision and expertise in team management and development are at the forefront of exciting times for the business.
Is Amy a pre-planner or last minute gift shopper? Generally last-minute - you would think that this would have improved considering I am working in a gift business, but it hasn't!
Amy's top tip for gift giving? If you're giving something to your sister, make sure it's something you'd also use as you'll probably end up borrowing it! We call this the sister timeshare.

Content & Marketing Manager - Libby
Our in-house Marketing guru; Libby knows how to introduce our products and brands to the world beautifully. With a true knack for uncovering Australia's best products and emerging gift trends; Libby is our web design and branding expert. We love Libby's perfect attention to detail and expertise in email marketing but most of all, it's her ability to make everyone laugh even during the most stressful times that is top of our list.
Is Libby a pre-planner or last minute shopper? At Christmas I am most certainly a planner. But when it comes to birthdays I am not so great. They sneak up on me too quickly and I am usually sending gifts express on the day or after the event.
Libby's top tip for gift giving? If you're really out of ideas or time - get them a gift voucher! It's not a big deal and they'll likely be excited to spend it.

Business Development Manager - Aoife
Part of the team since 2011; Aoife is originally from Ireland and has been a vital part of our team during our growth and expansion, thriving under pressure and always working hard to get the job done. Having commenced with us in the warehouse; Aoife holds a hands-on insight into all levels of our business operations which is a real bonus in her current role as Business Development Manager. Working directly with our corporate customers; Aoife also has natural flair for numbers and currently oversees company finances while completing her CPA qualification.
Is Aoife a pre-planner or last minute shopper? A pre-planner.
Aoife's top tip for gift giving? Plan ahead of time so that the gift is meaningful.

Warehouse Manager - Pawan
Pawan is our warehouse and hamper production expert. Originally from India; Pawan has been working alongside Emily since 2009 and understands how to manage and operate our warehouse and hamper production seamlessly. Responsible for ordering and managing all hamper related stock; even in our busiest times; Pawan ensures our hampers are beautifully produced and full of amazing products for our customers.
Is Pawan a pre-planner or last minute shopper? Mostly last minute.
Pawan's top tip for gift giving? Gift cards are the great idea when you can't decide what to get.

Loreena's background in Online Marketing and Business Management, not to mention her love of problem solving are the perfect mix for managing our on-site SEO and freelance writing team. Ensuring our customers have all the information they need, while developing strategy and content to keep our brands visible online, can be a challenge but one Loreena loves.
Is Loreena a pre-planner or last-minute shopper? Generally last minute, although I'm hopeless at choosing things for people when I'm under pressure.
Loreena's top tip for gift giving: If you see something throughout the year that suits a person, buy it then and there and put it away!
Customer Experience Expert - Ruth
Thanks to our Customer Experience Expert Ruth; we know our customers are in the best hands possible. Whether it's via email, phone or live chat; Ruth's goal is always to find the perfect solution for our customers, and add some sunshine to their day. Always one to encourage dress-up days at the office, Ruth brightens our day too!
Is Ruth a pre-planner or last minute shopper? I would have to say I am a bit of both. I like to plan out what I am going to get everyone, but tend to buy the gifts last minute in order to cash in on the last minute discounts.
Ruth's top tip for gift giving? I am a fan of DIY gifts, making your own personalised gift that cannot be bought anywhere. Pinterest has thousands of pins with DIY gift ideas for every person and every occasion.
Procurement & Dispatch Manager - Sarah
Originally from France; Sarah is our in-house spreadsheet expert who's inquisitive, analytic nature and expertise in logistics saw her begin her journey with us as a Christmas casual before we quickly snapped her up to join our team full time. Sarah adds extra joy to the team by being our resident celebrations manager; always organising special gifts and treats for team birthdays and occasions.
Is Sarah a pre-planner or last minute shopper? Last minute, which can be very stressful!
Sarah's top tip for gift giving? Make it fun! It's a present!

Gifts Fulfillment Manager - Rebecca
With over 1,000 product lines under her care, Rebecca is always busy. With keen attention to detail and being our florist extraordinaire; Rebecca's creativity ensures our customers always receive beautiful gifts to bring a smile to their faces. With brilliant organisation and extremely high standards, Rebecca constantly monitors our gifts stock levels and ensures flawless dispatch of our growing range of gifts.
Is Rebecca a pre-planner or last minute shopper? I prefer to be a pre-planner but every now and then I get caught out
Rebecca's top tip for gift giving? We all that have that one friend that has it all why not give them a gift experience for something different.

Customer Testimonials
"The Hamper Emporium have been absolute angels throughout this whole process and I won't hesitate to use you guys again. Thanks so much for all your assistance in delivering the hamper to my sister. She absolutely loved it."
"I really appreciated The Hamper Emporium's help with everything. I am thrilled to have found your company and the wonderful service it provides. Keep up the great work!!"
"The customised hampers you suggested were fantastic, my thanks to The Hamper Emporium for pulling all this together for me. It was very much appreciated."
"Just wanted to say a big thank you for the Easter hamper delivered to my daughter. Through the difficulties given she had left work prior to delivery before Easter and then the re-scheduling of the delivery after Easter, this was done very professionally and without difficulty. Thanks again – I highly recommend The Hamper Emporium."
"I have just received the two Easter Hampers and I wanted to thank you. I was amazed at how quickly they arrived and I can't believe how much was in the hampers and how beautifully presented they were. Thank you so much for the incredible service, you have a customer for life. I am very impressed, thanks again."
Our Sydney Customer Pick-up Location
Customer pick-ups are made from The Hamper Emporium located in Regents Park, Western Sydney.
The Hamper Emporium
Address: c1/391 Park Rd, Regents Park NSW 2143
Phone: 1300 459 452
Calling from overseas? Call us on +61 2 9645 3516
Our Support Office Locations
As well as The Hamper Emporium Head Office and Hamper Warehouse based in Sydney, we have support offices in Melbourne, Brisbane and Perth.
Please note, hampers cannot be picked up from our Melbourne, Brisbane and Perth locations.
The Hamper Emporium Melbourne
Address:
2/230 Balaclava Rd, Caulfield VIC 3162
The Hamper Emporium Brisbane
Address: 5/43 Queen St, Brisbane City QLD 4000
Phone: 1300 459 452
The Hamper Emporium Perth
Address: 406 Hay St, Perth WA 6000
Phone: 1300 459 452