Chocolate For The Festive Season
Author: Nicole Adler Date Posted:8 April 2015


The best edible Christmas present, this is the best definition to a chocolate present. If you're planning to give the sweetest gift this holiday, opting for a chocolate Christmas hamper is the right way to touch your significant other's heart. Chocolates can also be part of your Christmas menus as it can be an ingredient to some unique recipes. Don't think that chocolate Christmas hampers are impractical, as a matter of fact, it is the most practical gift ever as it can be eaten, it can serve as an ingredient to whatever menu you're cooking this Christmas and it surely can sweeten the moment. The Hamper Emporium provides a lot of chocolate Christmas hampers for this is currently in demand, many online shoppers are hunting for chocolate hampers rather than purchasing gadgets as Christmas gifts. To help you find chocolate Christmas hampers that your significant other will surely love, browse the Hamper Emporium and you'll never be disappointed.
Be Sweeter This Holiday Season
Chocolates are perfect for lovers and those people who wants to express their feelings but can't. So if you're one of those people who believes in the saying that action speaks louder than words, then choose from the different chocolate Christmas hampers of the Hamper Emporium, and show them through actions how much your special someone means to you this Christmas.

1. Chocolates & Red Xmas Hamper - Who would have thought that for $112, you can already enjoy a satisfying hamper filled with grandest items this Christmas. This hamper oozes with sweetness as it presents you with impressive collection of chocolates coming from world renowned chocolate manufacturers. As a start, the Butlers that started its chocolate venture since 1932 offers one of their amazing chocolate collection of handmade chocolates as well as its Red Floral Ballotin selection. You will also enjoy what Fardoulis has to offer, the Chocolate Plato that is good for several persons craving for sweet stuffs thanks to its dark chocolate ingredients comprising of about 55% cocoa solids. If you are into raisins and hazelnuts, you will be happy to know that this hamper has the popular Willie's Cacao product.

2. Luxury Chocolate & Bollinger Hamper - You don't have to spend too much to make someone happy this Christmas. All you need is a hamper to make someone feel joyful deep within. Thanks to the Hamper Emporium, connecting to someone emotionally is easy. With its Luxury Chocolate & Bollinger Hamper priced at $199, gently hit someone's heart with cupids' arrow! This hamper can make its receiver feel blessed and grateful. Who wouldn't if you get to receive Maison Fossier Macarons and pastries? Not to forget the Candied Peanuts that is made perfectly by Morgan & Alberts. It also comes with one of the best tasting champagne, the Bollinger Special Cuvee Brut NV. Chocolates are always present and to keep you in a heavenly trip is the handmade chocolate collection of the Butlers!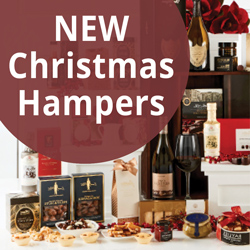 3. Luxury Chocolate & Champagne Hamper - Chocolates, champagne and impeccable tasty cookies and pastries, there's no other place to check other than the Hamper Emporium. There's only one hamper to purchase if you want reasonably priced hamper yet comes with mind blowing contents, the Luxury Chocolate & Champagne Hamper. This hamper will make you or your recipient feel like a VIP. Start opening the champagne Veuve Clicquout Yellow Label and slowly munch on those yummy Macarons and Pastries of Maison Fossier, and don't forget to try the candied peanuts of the one and only Morgan & Albert's. Of course, this hamper will not be considered as a luxurious one if it does not include chocolates. Now, hold your horses as you get to enjoy the chocolate Christmas hampers from Butlers. Unbelievable as it seems, it comes with handmade milk chocolates of Butlers as well as truffles.

4. Chocolates & Red Hamper with Premium Shiraz - For an unbelievable price of $139, this hamper already brings you a wine on your Christmas table, a branded pastry from only the best pastry company, the Maison Fossier plus it also offers you collections of chocolates that are not typically found in any hamper, unless it is from the Hamper Emporium. Chocolate collection coming from the Butlers is included, which brings a mouth watering effect and it's all because of its truffles made in dark and white chocolate. Fardoulis chocolate is also included to give a variety just in case you want something different aside from Butler's chocolates. Lastly, this hamper offers you deliciously prepared raisin and hazelnut chocolate to keep you alert and your taste buds entertained!

Chocolates can symbolise a lot of things, it can be perceived as being sweet when giving this away. Chocolates can also mean love or a deeper affection to someone. Giving chocolate Christmas hampers therefore can mean so many things depending on your intention, how to give it and what are its contents. So if you don't want to be misinterpreted, purchase from the Hamper Emporium directly to be sure.
Intensify the Sweetness with Chocolate Christmas Hampers
The Hamper Emporium knows exactly how to overwhelm someone emotionally. With the site's lovely chocolate Christmas hampers, your aim of connecting emotionally to someone can be done with ease at an affordable price. The Hamper Emporium offers free delivery within Australia and the best part of it, the hampers are delivered by one of the team members of the Hamper Emporium to ensure the package is well preserved and delivered on time in a lovely manner. So fall in love even more this Christmas with the Hamper Emporium's Chocolate Christmas Hampers. Don't think twice, no need to worry of your budget, when you're in a tight budget all the more you need to check the Hamper Emporium. Clever buyers choose the Hamper Emporium for everything they need when it comes to special occasion and Christmas. Just make sure to place your hamper order before December 15, 2014 to ensure your lovely hamper will be delivered on time without any issues.