Merry Christmas - Don't Forget to Order Your Christmas Hamper Online 2023!
Author: Nicole Adler Date Posted:31 August 2016


You better check your list and you better check it twice because even if you're not Santa, you still have got to do some shopping for this season of giving. We know how special Christmas is for families and friends. It is that time of the year when almost everyone is around to enjoy the company of their loved ones while celebrating this special occasion.

As such, we always think of something special to give during Christmas because special occasions call for special presents. After all, these presents are to be given to special people in our lives, so we do bother. However, sometimes, we run out of ideas on what to give these special people. If you have such problems, worry no more because here at Hamper Emporium, we have got Christmas hampers and chocolate hampers perfect as presents for this holiday season.
Stress-free Online Christmas Shopping
We know you want your Christmas gifts to show thoughtfulness. You want to show your friends and families how much they mean to you with these gifts. However, sometimes, thinking of the best Christmas presents can bring us stress. And wait till you need to go to the shopping centre to buy those presents. Christmas shopping can be such a nightmare. Good thing next Christmas, you need not worry on either of those. Check out our Christmas hampers and chocolate hampers which are perfect presents for your loved ones this holiday season.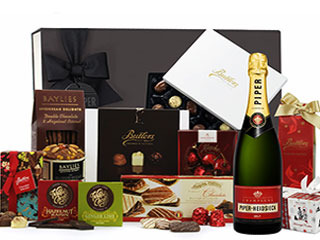 What's more is you do not need to worry about walking around with hundreds of people in the shopping centres because we will have it sent straight to your doorsteps! Just remember to give allowance when placing your orders to make sure they arrive in time for the festivities. Our standard delivery service is free nationwide. However, if you are in a hurry and would want your orders to be delivered earlier, we would be able to arrange that for an additional charge.

The only thing that's left is the Christmas hamper. Choose from our wide selection of Christmas hampers and chocolate hampers starting today!
Christmas Hampers: The Basket That Puts the Merry On Christmas
There is no better way of touching your loved one's heart than going through their stomach! Here at Hamper Emporium, we have got lots of Christmas hampers filled with treats, chocolates, and wines which will surely delight your loved ones.

Nothing makes a celebration more festive than a bottle of champagne. With our Champagne Festive Hamper, you will be able to bring the festivity in the homes of its recipient. He or she will enjoy a 750 ml bottle of Piper-Heidsieck Brut NV Champagne along with some treats, ready to tickle their sweet tooth. This hamper includes treats from one of the most luxurious French biscuit brands in the world, Maison Fossier. It also has a box of Byron bay cookies suitable for vegetarians. After dinner, your recipient can have a taste of Christmas with a box of dark chocolate coated ginger made from the country's finest ingredients. All these and more when you buy the Champagne Festive Hamper.

If you want to keep it simple, check out the Christmas Bites Xmas Hamper. Exploding with fruity and nutty flavours, this hamper is a perfect present for people who love tea parties. This hamper contains biscuits and pastries perfect for an afternoon tea. It includes a box of herb crackers made with rosemary, basil, and oregano, perfect for the Tasmanian Fruit Pastes, also included in the hamper. This hamper also includes a bottle of Shiraz by Brown Brothers. Get all these and some more chocolates and delightful treats for an affordable price.

If you have got friends who prefer munching treats than drinking, check out the Indulgence Xmas Hamper. An indulgence for a really low price, this hamper includes a pack of Premium Nut Mix by The Brewer's Nut Company. Biscuits and sweets include French butter biscuits by Maison Fossier, a traditional Christmas cake by Baylies Epicurean Delights, a box of peanuts made with 100% Australian honey, and more!
Chocolate Hampers for the Sweet Tooth
If you are still not sure on which hamper to buy, choose Chocolate hampers. Filled with different kinds of chocolates, this hamper will surely suit the likes of your loved one. After all, who doesn't like chocolates, right?

Spoil your loved one with The best of all Christmas Gift Hamper. Living up to its name, this hamper has got some of the best items that you could think of in a hamper. The hamper includes a 750ml bottle of 2010 Shiraz from the cellar of the Brown Brothers, an exclusive item to The Hamper Emporium. It also has some of the best biscuits and sweets including the Maison Fossier French Galettes Saint Remi, a handmade cake by Baylies Epicurean Delights, and a delicious panforte made with fruits and almonds, also from Baylies Epicurean Delights. These and some more exquisite selections of chocolates, all for your loved one.

Pamper the special woman in your life with the Pure Indulgence Hamper. This hamper has got a bottle of Moët & Chandon champagne. Let her indulge on a variety of biscuits and sweets including some pastries created by Maison Fossier, Butlers, and Luken & May. It also has some delightful chocolate treats including the Butlers Handmade Chocolate Selection, Willie's Cacao El Blanco made from original Venezuelan cacao, and more! After enjoying the treats, she will be able to pamper herself with the body butter, body wash and body lotion, all by MOR.

If you prefer much simpler yet still sophisticated chocolate hampers, check out the Festive Bubbles & Chocolate Hamper. Nothing shows sophistication better than a bottle of Moët & Chandon champagne. Enjoy it with the rest of biscuits, sweets and chocolates which include a box of chocolate chip puff pastries from the Maison Fossier, toffee-flavoured crunchy peanuts with custard from Morgan's, Willie's 70% Dark Chocolate made from the purest Peruvian cacao, and a lot more!

If these are still not enough, do not fret. The Hamper Emporium offers a vast selection of Christmas hampers and chocolate hampers which will surely satisfy your taste. Shop now and avoid the Christmas rush!